SPEAKING OF SUNFLOWERS by
SPEAKING OF SUNFLOWERS
by Evan Anders
the world is bare bones
an orphan after rage
relinquishes her arrow.
magnolias ago,
sunflowers stormed my mouth
every night an attempt to take ownership of the sun
every tide stumbling into decimation
a collied exists as a reminder
we were born a flicker of elegance.
autumn evolved with our refusal
to compromise, a sea turned to snow,
the sea's last poem
another battle with the sheets
every destroyer has a price to pay
for petals strewn
upon the floor.
who am i to question this state of decay?
stripped bare the world is stone
soured on the promise of gold
speaking of sunflowers
each petal a faceless instinct
a glimpse at where the dust gathers
i've glorified my share of silk.
where once i was a storm
i am afraid
where once i cherished chaos,
chaos became my craft.
where do i go to scream?
no longer whispers in a vase
i swear to god
silence is a virtue.
we chew love for sugar
not sustainability
lost in a lullaby, i repeat myself
how shall i go to war with this flesh?
if i am empty, what are you?
to become the tide,
one must break.
---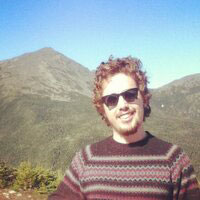 Evan Anders brews coffee for mass consumption in Philadelphia. His poems have appeared in Philadelphia Stories, California Quarterly, North Dakota Quarterly, and Chicago Quarterly Review. He is a retired stay-at-home dad who thinks Bob Dylan was best in the eighties.
Cover Photo by Kilian Peschel on Unsplash