SOMEDAY, SOMEWHERE, a young adult novel by Lindsay Champion, reviewed by Elaina Whitesell
SOMEDAY, SOMEWHERE
by Lindsay Champion
KCP Loft, 270 pages
reviewed by Elaina Whitesell
Purchase this book to benefit Cleaver
Dominique, or Dom, seems to have nothing. She lives in Trenton, New Jersey with her single mother and helps run their Laundromat. When Dom and her best friend Cass embark on a field trip to New York City to see the students of the Brighton Conservatory perform at Carnegie Hall, Dom sees Ben for the first time.
Ben, a precocious violin virtuoso with money and a life in New York City, seems to have everything. Attracted to his music and lifestyle, Dom tracks Ben down and, with borrowed and stolen money, she begins leading a double life, travelling to NYC weekly to meet and subsequently date him.
Lindsay Champion's debut novel Someday, Somewhere begins as any tragic love story, with star-crossed lovers from different socio-economic backgrounds, educations, passions, and family structures. But it becomes a more complex story about how relationships can lead people to live more fulfilling lives and accept nothing less than what they deserve.
A love for jazz is the foundation of Dom and Ben's friendship and romance. But the Dom that Ben falls in love with is posing as a student of dance at NYU and there are ominous mentions of Ben's past struggle with mental health. When the inevitable moment of truth occurs, their relationship survives, however, they both come to realize the pressures of their lives have quelled their true passions.
When Ben manically pressures Dom to break into the upper rooms of Carnegie Hall, Dom's less realistic dreams become tainted and she is able to draw the distinction between concrete, attainable dreams and pure fantasy. In this moment, a long-term relationship with Ben becomes fantastical. Sometimes loving someone means allowing him or her to seek their own happiness on their own terms.
Lindsay Champion reminds readers that just because things seem unhappy does not mean they're all bad, and just because things seem perfect does not mean there isn't room for growth. Not all drama has to be damaging. The process of becoming an adult means sacrifice and real, healthy love.
Although Someday, Somewhere presents itself as a teen love story, it becomes a story of self-love, transformation, and acceptance. Beginning with simple tropes, the narrative slowly weaves a complex world of thought and emotion and becomes richer as the story unfolds, weaving a tapestry of heavy topics and ego establishment. The novel's crescendo displays an intricacy of voice when it becomes apparent that their relationship is the catalyst Dom and Ben desperately needed to remind one another of their individual worth and have some autonomy over their own lives.
In this way, Champion's novel serves as a good marker for what a contemporary teen love story should be: entertaining and focused on a broader human betterment, without skipping over the trials of the modern world. The reader accompanies Ben and Dominique on the path to adulthood, which is neither colorless, nor easy.  Champion shows the reader that the process of maturing can take another person to remind us where and who we are in order to choose the path to personal happiness.
---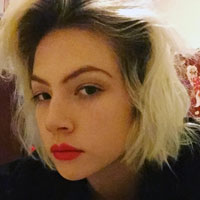 Elaina Whitesell received her bachelor of arts from the Writing Seminars at Johns Hopkins University. She currently occupies a position as poetry editor for Cleaver Magazine. Her work appears in The RavensPerch and New Limestone Review.