THE UNDERSTORY by Pamela Erens reviewed by Ashlee Paxton-Turner
THE UNDERSTORY
by Pamela Erens
Tin House Books 169 pages
(originally published by Ironweed Press in 2007)
reviewed by Ashlee Paxton-Turner
I began Pamela Erens' The Understory to find the main character, Jack Ronan Gorse, peering inside his coffee cup to reassure himself that he is indeed drinking black coffee. As someone who also only drinks black coffee, I identified with Gorse's need to ensure the absence of cream and sugar. Of course, Gorse's habit has an interesting origination; it developed after once finding sour milk in his coffee. This first introduction to Gorse is a telling  characterization of him; he is a man in love with his habits and his routines, yet at the same time, restricted by them, using them to repress his desires for love and companionship. Gorse even goes so far as to insist that he cannot tolerate the company of other people, yet he is drawn to Patrick, a stranger, who he allows to distract his thoughts and upset his routine.
The quiet of a familiar apartment lined with familiar books. The quiet of the flora and fauna of Central Park and the quiet of a favorite booth in a favorite diner. The quiet of a bonsai room in a Buddhist monastery in Vermont. For Gorse, an ex-attorney, it is this quiet and solitary life among his books, his thoughts, and his routine that sustains him until he faces eviction, homelessness, and his own repressed desires. Gorse finds himself struggling to blend his routine and quiet existence with an imagined intimacy with Patrick, a man Gorse consistently forgets he hardly knows. It is in this tenuous relationship with Patrick, and a flashback to a childhood friendship with a boy named Henry, that Erens demonstrates her aptitude for capturing the essence of relationships that do not materialize or meet an individual's expectations. Whatever Gorse so desperately wants from Patrick, he cannot get, so he obsesses over small details, even a shard of glass of Patrick's shoe, or conversations that have yet to occur. Gorse retreats to the Ramble of Central Park and addresses his obsession indirectly, sometimes spying on others and other times simply considering the foliage.
Gorse insists that what resonates the most with him in Central Park are shrubs that grow close to the ground, "the understory, as botanists call it." It is Gorse's understory that Erens so compellingly gives her reader, not a backstory or glossy picture of the man everyone around him sees, although that is the picture that Patrick takes of Gorse and later gives to Gorse. The Understory is the story of the meditations and thoughts that might ordinarily be left unnoticed much like the ground-dwelling shrubs of Central Park.
Erens makes beautiful what is so painful: a man's obsession with routine and his struggle to find a place for himself. In addition to fluid and moving writing, Erens' form reflects her content so that the reader feels as Gorse does, comparing and contrasting his existence in New York City  to his time at a monastery in Vermont. The novel is organized by alternating chapters, Gorse's life before entering the monastery and his life at the monastery, until a final chapter that brings the two experiences together. Appropriately, the chapters that describe Gorse's life before entering the monastery are longer, winding pieces that describe Gorse's own winding routines, while the chapters that occur at the monastery are shorter, more minimalistic, and more incisive in their reflections, perhaps to reflect the minimalistic feelings of a Buddhist monastery. The novel pushes between the lines of one man's meditations on his existence and the mystery of his current situation.
Without much pretension, Erens also skillfully incorporates numerous literary and philosophical references. The detailed descriptions of Gorse's routine combined with these references allow the reader to understand Jack Gorse and all his thoughts. In imagining what he will say to the judge to defend himself from eviction, Gorse muses:
Your Honor, Locke wrote that what gives a man a right to property is that he has mixed his labor with that property. Hegel added that when a man exercises his will upon a thing, he makes that thing a part of himself."  And he continues, "Should only geniuses, only people who offer a verifiable brilliance to the world, be allowed a life among books? Thoreau said that it would please him to imagine a government that could tolerate the existence of a few men who wished to live aloof from it, 'not meddling with it, nor embraced by it'."
For Gorse, it is natural to imagine his solitary existence in the context of heavyweight philosophers.
However, Erens does not simply write a man's meditation on his life. Erens demonstrates that routines, even meditations are temporal. At some point, the actions that reflect the true self must bubble up to the surface, shocking everyone involved. The ending is just that—a shock. A character I felt I knew so well does something neither he nor I can imagine, and it is at the novel's conclusion that Erens makes clear the full extent of the damage of self-repression.
---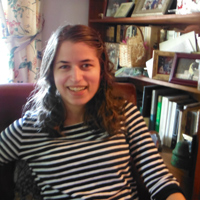 Ashlee Paxton-Turner is a native of Williamsburg, Virginia and a graduate of the University of Pennsylvania, where she was an English major with a concentration in creative writing. A former Teach For America corps member, who taught high school mathematics teacher in rural North Carolina, Ashlee is now a law student at Duke University.