SMALL
by Michael Head
He stood staring out the peephole and waiting for the girl who said she'd come. She was three days late and he didn't have a television so he mostly stood staring out the peephole and counting the seconds. It didn't bother him that the power had been shut off for five days or that the rent was a full week overdue. He had twelve thousand dollars in a backpack and he was waiting for the girl who said she'd come. She would bring one thousand grams of Small and they might fuck and she would leave. He was thirsty and wanted to run to the vending machine down the hall but if she was on Fast she might come and go before he got back.
So he stood staring out the peephole and waiting for the girl who said she'd come.
He started getting Small when he was thirteen because it made him feel like a little kid again. Before the cliques and FCATs and divorce and death slurped away his best chance at a childhood. Before puberty turned him into a small giant with enough personal volume for three average humans. Before he became a two-time college dropout with no future prospects but a successful drug enterprise. He met the girl two weeks ago at a New College party where nerds break bad in their dorm rooms and craft fantastic drugs like Small. The girl liked to party on Slow and then do some Fast when the Slow wore off and he fucked her with his Small dick and she said she would come in two weeks.
So he stood staring out the peephole and waiting for the girl who said she'd come.
When he was Small he imagined himself with Lilliputian dimensions and a munchkin's helium-soaked voice. He bought an oversized chair to sit in and bought humungous lollipops. He bought a jumbo big-wheel and bought an enormous race-car bed. He got strange looks at toy stores and worried looks everywhere else. He bought an annual pass to Disney World and spent many days riding the rides and playing the games. He also sold Small to other like-minded individuals and slung grams of laced weed to parents.
He pissed in an empty bottle and stood staring out the peephole.
When he first started getting Small he took it too far too fast and overdosed. He reverted back more and more until he had to wear diapers and forgot how to walk. He went fully infantile for over a week. By the time he came to he'd learned rudimentary Spanish from Dora the Explorer. But now he had his shit together. He started dealing Small so he wouldn't get high on his own supply. He didn't think much about it though because he didn't think much about anything anymore.
He mostly stood staring out the peephole unless he was too Small to reach it.
---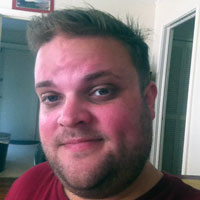 Michael Head was born and raised in Panama City, Florida. He is a graduate of Florida State University's Creative Writing program, where he studied under Pulitzer Prize winning author Robert Olen Butler. He was previously awarded Creative Writing Student of the Year 2010-2011 while at Gulf Coast State College. Michael hopes to attend graduate school for screen writing.
Image credit: Williamson on Flickr