SHOW TUNES by Julie Benesh

Julie Benesh
SHOW TUNES
My ex-
husband texting
quotations, marked:
"I know all about your
standards…" Because July:
………….Music Man.
last month was June's
………….Carousel
bustin' out
all over.
(If I… )
Next month:
………….State Fair
(Iowa, again, my home
state).
"…Irish imagination…" I know
he is drinking red
"…Iowa stubbornness…"
wine
"…library full of
books…" for his heart.
September, December
………….Fantasticks.
May, always
………….Camelot
Last line, un-
punctuated:
Don't you ever
think about being
…?
almost like being:          it's always
Brigadoon                     Groundhog Day.
---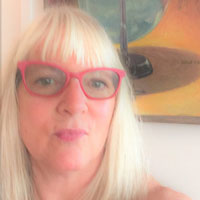 A graduate of Warren Wilson College's Program for Writers, Julie Benesh is the recipient of an Illinois Arts Council Grant, and her writing can be found in Bestial Noise: A Tin House Fiction Reader, Tin House Magazine (print), Crab Orchard Review, Florida Review, Gulf Stream, Hobart, New World Writing, Journal of Compressed Creative Arts, and many other places. Read more at juliebenesh.com.
Cover Design by Karen Rile