[A BLOCKED VALVE FACILITATES PRAYER. A BLOCKED AIRWAY INSPIRES A] by Levi Andalou
Levi Andalou


[A BLOCKED VALVE FACILITATES PRAYER. A BLOCKED AIRWAY INSPIRES A]



A blocked valve facilitates prayer. A blocked airway inspires a
sudden reinvestment in the communicative powers of miming. A
blocked pathway introduces the stern demands of an omnipotent
being. Palms should be dry, mouth wet, or is it the other way
around? Like the soldier the child imagines himself becoming,
waving off water, ampules, plasma. Lying on the motel bed, I
there succumb to exposure. Exposed to the onionskin leaves of the
deathbed edition, the white spaces between words running
together into currents that flow unchecked over the falls of broken
lines. Does sadness collect in the bloodstream like mercury, a
shimmering thing? A crack between door and jamb mobilizes
love. You assure me it is nothing to worry about, nothing at all.
---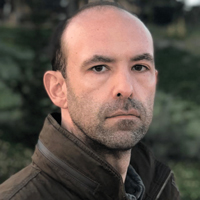 Levi Andalou's work has appeared or is forthcoming in The Minnesota Review, Lake Effect, Spillway,  BOMB, Virga Magazine, Sugar House Review, DIAGRAM, F(r)iction, Sonora Review, Phoebe, Ruminate, Pembroke Magazine, and Tampa Review. He is a finalist for the 2018 Greg Grummer Poetry Award. The Poetry Editor of Black Warrior Review has said of his work: "These poems and their linguistic turns reinvigorate the prose poem." The Poetry Editor of Washington Square Review called his work "hypnagogic, surreal, and surprisingly incantatory, given its prose form." He graduated from Brown University, where he studied with C.D. Wright, Michael S. Harper, and Ange Mlinko. He lives in the San Francisco Bay Area. You can read more of his work or contact him at LeviAndalou.com.