RIVER RISING by Robert E. Heald

Robert E. Heald


RIVER RISING



The air is glass. Leave the window open wide,
and I'll tell you how the daylight is its own
kind of prayer. I'll tell you the secrets
you mutter in sleep. You dream of rain,
and morning is breaking. You dream
of my hands, and your river heart is rising.
The brown water at my ankles, my knees,
my groin. The green waters at my chest
dragging me under. My bones on the riverbed,
my bones on the sea floor, how the sun torn
waves brought the light crashing through.
We could cross these oceans in an afternoon
if you'll just let me sit beside you, mapping
your veins onto the book of my hours.
This taste of salt, that nearing shore,
the shadows of gulls that rise above this bed.
You wanted a prayer? Sure enough: Hail Mary
full of grace. Hail Mary full of birds. Our Father
who art water and light. I was not ready
for this: the body known, the room gone white,
and I'm trying to remember how it feels to begin.
How would you describe it? the chair
by the window? an unchartered deep? rain,
and a rising river? We may be monsters,
but we have been brave, we have had the darkness
ripped from our eyes. My albatross,
my open sky, don't be afraid to wake up.
---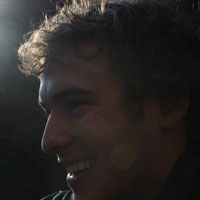 Born and raised in Atlanta, GA, Robert E. Heald graduated from Colorado College in 2014 and is currently an MFA candidate in the Helen Zell program for poetry at the University of Michigan. His work was chosen as a finalist in River Styx's International Poetry Contest and has appeared or is forthcoming in Bird's Thumb and Assaracus.
Image credit: Anna Popović on Unsplash
Read more from Cleaver Magazine's Issue #14.