GET BEHIND ME SATAN by Mica Evans
GET BEHIND ME SATAN
by Mica Evans
She remembers his daft voice ringing like a death knell: Beer,
it's beer you blubbering broad – you're supposed to drink it fast.
She's feeling fat but not hungry. She's full of beer but not ugly,
and she knows. She's looking killer in that cotton blend catsuit
he bought her the last time she couldn't stop crying. Whenever
she cries, he causes then cures it, and she forgives him
like bare feet in a crowd. When his caustic tongue takes it
a lick too far, he flowers, fixes, flatters her like fluorescent
lights in a sunny park. She remembers his pink lips spitting:
She's got a nice ass and an afro, she doesn't know about Foucault,
so don't ask her, just bring a round of shots. She rarely talks.
She thinks, Can someone get this broad a crock of soup and a lager?
All hail the pale ale gods who got her here another night.
Despite the seven white men drooling at her from their stools,
she taps her toes, takes a glub, and anxious-glances at the door.
She's down down dumb drunk drunk and won't eat until
he waltzes in with that keyring jingle, three bloodhounds at his feet.
---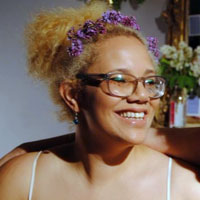 Mica Evans is a recent graduate of Bennington College, where she had the pleasure of studying with Michael Dumanis, Mark Wunderlich, Monica Youn, and Alex Dimitrov. Before beginning MFA applications in the Fall, Mica is excited to be participating in the Bennington Writing Fellowship, Skidmore Writer's Institute, and Ashbery Home School.
Image credit: Stephen Yeargin on Flickr