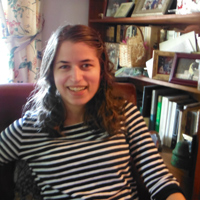 Ashlee Paxton-Turner is a native of Williamsburg, Virginia, and graduate of the University of Pennsylvania, where she was an English major with a creative writing concentration. A former Teach For America corps member in rural North Carolina, Ashlee is now a lawyer and graduate of Duke University School of Law.
---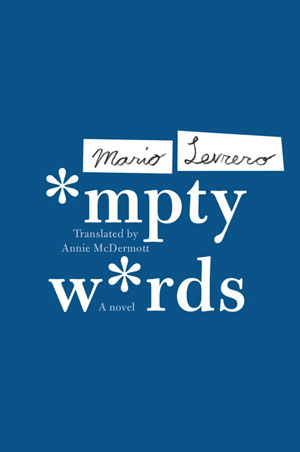 EMPTY WORDS by Mario Levrero translated from the Spanish by Annie McDermott Coffee House Press, 122 pages reviewed by Ashlee Paxton-Turner
Purchase this book to benefit Cleaver
Mario Levrero's
Empty Words
is no ordinary novel. Organized as a series of handwriting exercises,
Empty Words
offers a look inside a novelist's mind as he attempts to improve himself by improving his handwriting. Originally published in 1996 in Spanish, it is Levrero's first novel translated into English. Annie McDermott, who introduces English language readers to Levrero, has translated other works from Spanish and Portuguese, and her translations have appeared in many places, including
Granta
,
the White Review
,
Asymptote
,
Two Lines
, and
World Literature Today
. At first blush, however,
Empty Words
appears to be an unusual work to translate because it is ostensibly less of a narrative and more of a meditation on language itself. After all, it is structured as a series of handwriting exercises. But it becomes clear rather quickly that translation does not hinder the reader's ability to appreciate
Empty Words
because that meditation on language and the shape of individual words creates a narrative of its own. Words do not exist in a vacuum, and the narrator's efforts at ...
Read the full text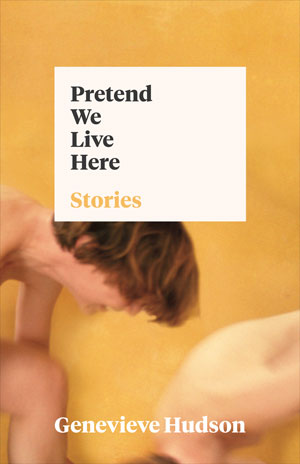 PRETEND WE LIVE HERE by Genevieve Hudson Future Tense Books, 168 pages
reviewed by Ashlee Paxton-Turner
"College people like getting greens with soil still on the stems. It makes them feel real in a world made mostly of plastic and propane." This is what the first narrator, a 13-year-old Alabaman girl with a rotten tooth, tells the reader in Genevieve Hudson's debut collection of short stories,
Pretend We Live Here
. This type of humor and keen observation peppers the entire collection of fifteen stories. Hudson, who lives in Amsterdam, received an MFA in creative writing from Portland State University. She is the author of
A Little in Love with Everyone
, a book on Alison Bechdel's
Fun Home
. Her work has appeared in a variety of publications, including
Catapult
,
Hobart
,
Tin House
online,
Joyland
,
Vol.1 Brooklyn
,
Split Lip
,
The Collagist
,
No Tokens
,
Bitch
,
The Rumpus
, and other places. In
Pretend We Live Here
, Hudson leads the reader on a journey alongside the many protagonists who are trying to find themselves. The identity of the  "college people" in the collection's first story, "God Hospital," is wrapped up in doing what makes them feel real. For the thirteen-year-old narrator, Rae, "visualizing is an ...
Read the full text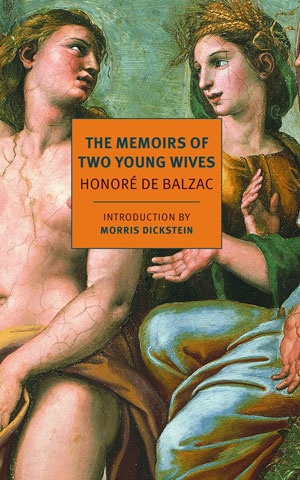 THE MEMOIRS OF TWO YOUNG WIVES
by Honoré de Balzac
translated by Jordan Stump
New York Review Classics, 242 pages
reviewed by Ashlee Paxton-Turner
Purchase this book to benefit Cleaver
The classic coming-of-age novel tells the story of a young boy coming to terms with the man he is about to become. Over 175 years ago, the great French literary seer Honoré de Balzac composed a rather untraditional version: in his novel,
The Memoirs of Two Young Wives
, Balzac applies the traditional arc of the bildungsroman to two female protagonists in order to present two ways of life—the passionate life and the tranquil life. In doing so, Balzac reminds readers of the elusive nature of happiness, regardless of one's way of life, and what it means to love and be loved. Balzac was expert at capturing the French society of his time. He wrote over ninety novels, but
The Memoirs of Two Young Wives
never received the attention as a beloved work like
Pere Goriot
. Additionally, unlike his more famous plays and novels,
The Memoirs of Two Young Wives
has a small cast of characters and follows the epistolary form. Commentators and scholars have theorized that this novel presents ...
Read the full text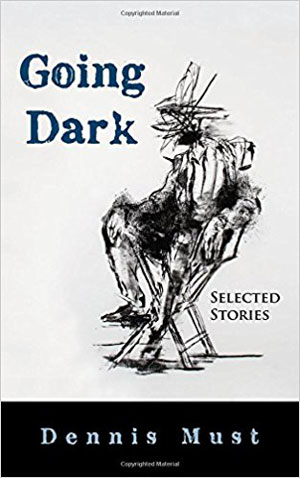 GOING DARK by Dennis Must
Coffeetown Press, 167 pages
reviewed by Ashlee Paxton-Turner
An aging and dying actor, a blank slate, a forgotten man. This is the first narrator the reader meets in Dennis Must's 2016 collection of seventeen short stories,
Going Dark
. The narrator of the title story, though a nobody, shares much in common with the other narrators and characters of the stories that follow in the collection. Indeed, throughout the collection, Must's characters wrestle with important questions about identity, sanity, and morality, as their lives are colored by the particular details of their lives: their cars, the music they listen to, and their work. . The reason the first narrator, the actor, considers himself a nobody is that his identity is simply that of every character he has ever played. His own identity is simply lost. The characters in this collection have done everything from acting to working the night shift in a college town's only hotel to working as a night watchman in the local steel mill. They seem to be reflections on Must himself, who has co-founded a commercial real estate firm, taught school, worked as a cabinetmaker, short-order cook, lightning rod installer, florist, ...
Read the full text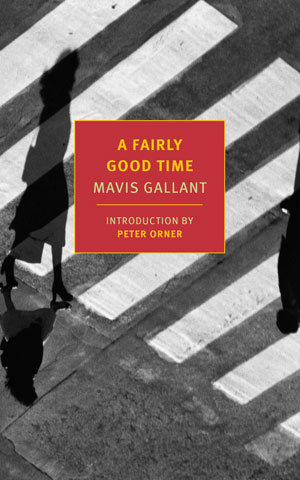 A FAIRLY GOOD TIME
by Mavis Gallant
NYRB, 273 pages
reviewed by Ashlee Paxton-Turner
A Canadian in Paris who must always remind her French friends that she is not American. A young widow who remarries a Frenchman, whom she later divorces. A twenty-seven-year-old who is "about like [she] always [was], to tell . . . the truth. Reading instead of listening." This is Shirley Perrigny, formerly Higgins (nee Norrington), and the protagonist of Mavis Gallant's 1970 novel
A Fairly Good Time
. Gallant, just like Shirley, was a Canadian who made Paris her home. Perhaps known best for her acclaimed short stories, Gallant wrote two novels,
A Fairly Good Time
and
Green Water, Green Sky
. These two novels were re-published by the New York Review of Books in 2016, just two years since Gallant's death at age 91. Set in Paris in the 1960s,
A Fairly Good Time
is Shirley's story, but Gallant does such a remarkable job capturing the confusion and chaos of life that it could be anyone's. Shirley, who struggles to recognize the reality around her, is very easy to relate to, at least for this reader. Shirley, indeed, loves to read. She tries to handle ...
Read the full text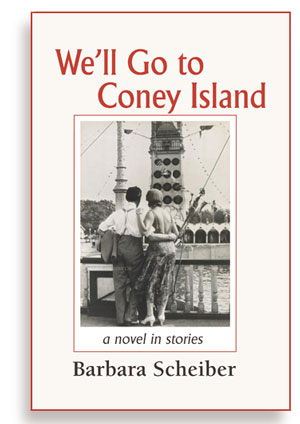 WE'LL GO TO CONEY ISLAND
by Barbara Scheiber
Sowilo Press, 246 pages
reviewed by Ashlee Paxton-Turner
With all the recent speculation about octogenarians releasing novels, it's exhilarating (and encouraging to writers everywhere), to read this sweeping first novel by Barbara Scheiber, published just last year when the author was 92.
We'll Go to Coney Island
, which was 30 years in the writing, tells a semi-autobiographical story about one family across generations, with a mother's secret as the thread that connects everyone. The story is a set of relationships, conflicts, and memories as time passes. Scheiber was formerly a radio producer for NBC, and in 1975, she was involved in drafting the Education for All Handicapped Children Act. The book's cover is a Walker Evans photograph of the backs of a man and woman at Coney Island. Evans took the photograph, which captures the scene Scheiber describes on the page one, in 1928. The Metropolitan Museum of Art featured it as a signature poster for a retrospective of the photographer's work in 2000. There is double-meaning to the photograph's use as the cover illustration for
We'll Go to Coney Island
: the man in the image is Scheiber's father, Harry A ...
Read the full text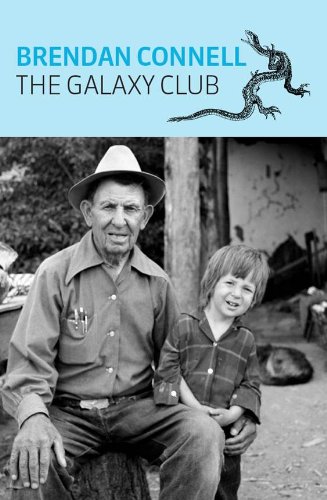 THE GALAXY CLUB
by Brendan Connell
Chômu Press, 189 pages
reviewed by Ashlee Paxton-Turner 
In his novel,
The Galaxy Club
, Brendan Connell, who was born and raised in New Mexico, reinterprets the landscape of a small New Mexico town, insisting that the comfortable and familiar all of a sudden feel slightly foreign. Connell has published both short fiction and several novels, notably
Metrophilias
(Better Non Sequitur, 2010) and
Lives of Notorious Cooks
(Chomu Press, 2012), and in
The Galaxy Club
, he experiments with making the conventional unconventional. From the first page of
The Galaxy Club
, Connell plunges his reader into a world that feels like it should be familiar but is riddled with the mythical and supernatural. I kept thinking that I should know this small, dusty town Connell describes—after all, I currently live in a small, dusty town. But Connell's small town isn't conventional. In a sense, it can't be: it's the late 1960s or early 1970s and the place bristles with sex (or anticipation of it, anyway), drugs, and rock and roll. It's also soaked in the supernatural, which seems to stem from Connell's interpretation of the spiritual aura of New Mexico, where he still lives. In the ...
Read the full text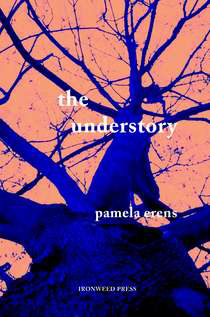 THE UNDERSTORY
by Pamela Erens
Tin House Books 169 pages (originally published by Ironweed Press in 2007)
reviewed by Ashlee Paxton-Turner
I began Pamela Erens'
The Understory
to find the main character, Jack Ronan Gorse, peering inside his coffee cup to reassure himself that he is indeed drinking black coffee. As someone who also only drinks black coffee, I identified with Gorse's need to ensure the absence of cream and sugar. Of course, Gorse's habit has an interesting origination; it developed after once finding sour milk in his coffee. This first introduction to Gorse is a telling  characterization of him; he is a man in love with his habits and his routines, yet at the same time, restricted by them, using them to repress his desires for love and companionship. Gorse even goes so far as to insist that he cannot tolerate the company of other people, yet he is drawn to Patrick, a stranger, who he allows to distract his thoughts and upset his routine. The quiet of a familiar apartment lined with familiar books. The quiet of the flora and fauna of Central Park and the quiet of a favorite booth in a favorite diner. The ...
Read the full text
LINEY'S SENSE OF IT by Ashlee Paxton-Turner
It was the not-so-early morning, coming on about nine o'clock, in the early spring or end of winter, whichever one prefers, and Dr. Naismith's game the Saturday prior had just made the town feel alive and made its boys feel like they could be men going somewhere, elsewhere. Dismissing the papers on the desk, it was decided that today Sherwood Anderson was more important. There is no sense in trying to explain just what that means, but it is something one can't help feeling, something one might try to explain nevertheless. That Saturday, like all of the other Saturdays of the season, had brought the town out of its kitchens, living rooms, and Main Street offices. Of course, that Saturday's game required a drive to a dusty gymnasium in a slightly bigger town. The hour's drive to watch the boys play Dr. Naismith's game had been spent differently by the different citizens of the town. Some had clambered aboard a bus, freed by the absence of seatbelts. Others had chosen to ride privately in their own vehicles, enjoying the ride, the accompanying conversations, and radio stations. In the gymnasium, crowds filled the bleachers ...
Read the full text