[A brother is a cistern and a bucket with a rope] by Harmony Button
[A brother is a cistern and a bucket with a rope]
by Harmony Button
A brother is a cistern and a bucket with a rope. The care with which
the rope is tied is not the same as knitting, but knitting is also a kind
of love. There are many, many boots. Years of knowing and
not-knowing but at least being present result in some impenetrable
surface. Waves on waves, water in the tank. During winters, we all
knock the pipes, which is to say, we suffer. Which is to say, we're
human. Which is to say, we have each other in a contract of always.
Cisterns function not by choice, but function. They are, as ropes
and buckets also. The simplicity of this arrangement makes for
sensible decisions and some excellent breakfast. The simplicity
of breakfast is to wake from sleeping, then to eat. In real life,
tea is not as strong as coffee, even though it is. People will say so.
Justice and deserving leave old tracks in dirt. Loose tea sticks in
teeth, an injustice in the craw. Who gives drinks to river mouths?
Underground, a buried source. Hand on hand to surface.
---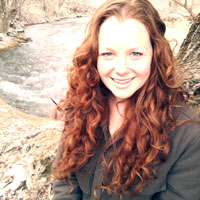 Harmony Button's work has been included in Best American Notable Essays of 2015, she has been nominated for Pushcart and Best of the Web awards, and she was awarded the Larry Levis Prize (Academy of American Poets). Her work has appeared in journals such as Colorado Review, Chicago Quarterly, Southwestern American Lit, Cobalt, Rock & Sling, Bayou, and Drafthorse. Find out more at www.harmonybutton.com. Her poem "Nativity" appeared in Issue No. 8 of Cleaver.