THINGS THAT CANNOT DIE by Paige Riehl

Paige Riehl
THINGS THAT CANNOT DIE
A spoon in a cup of tea.
The letters in yellow envelopes,
the way a hand pushed lines
into the soft paper.
Morning laughter.
A white shirt draped
over the chair.
An open window. The air.
The call of one blackbird.
The silence of the other.
November. Summer.
The sounds of the piano notes
as they rest in the treetops.
The road from here to there.
Grief, that floating, lost swan.
---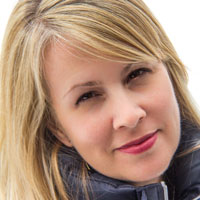 Paige Riehl is the author of Blood Ties, a poetry chapbook published by Finishing Line Press, fall 2014. Her poetry has appeared in Meridian, South Dakota Review, Nimrod International Journal, and more. She won the 2012-2013 Loft Mentor Series in Poetry and the 2011 Literal Latte Prize for Poetry. She is the assistant poetry editor for Midway Journal. Read more at paigeriehl.com.