NOTES ON CONSTANCY by Jesse Castaldi Keen
NOTES ON CONSTANCY
by Jesse Castaldi Keen
Constancy is the dust bath of the wing
is the floating current is the hidden compass
and constancy is the blood drawn
for the starving beak. Can I ask you
says constancy and replies the triplet
slept no different from you or me. Or
I found constancy in a red automobile
but constancy couldn't get through on the line
I drove constancy right onto the sand
past the gated dunes and look constancy
hasn't mended a fence yet. Did you know
constancy in her childhood butter wouldn't melt
constancy carried a duckling on her shoulder.
If I asked constancy remembers the smallest door
attracts the hungriest of kin to the yard
to terrorize each wing. I haven't made my choice
constancy could help me here to build a roost
could know someone who could help
out with this group of fowl. Constancy lies
by the barn in this heat and knows a meal
is coming knows an instinct greater than the map
knows a good deal when she sees it
constancy comes right over. If I see her
one more time like this I'll cut wood
to fit. Give me all she has and it speaks
coldly knowing too well what you need to say
constancy knits up her doings and sits
patient for you. Says yes to the migration
knows enough to pay it out in seed money
carries you as far as you need grateful
isn't constancy all you need.
---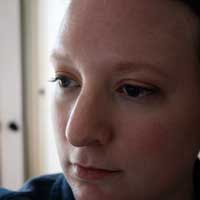 Jesse Castaldi Keen is a writer who recently moved to rural West Texas with her husband and two young daughters. She has worked in higher education in Texas, Oregon, and Massachusetts, most recently as a career counselor and grant writer. She has published several zines and small chapbooks under a personal imprint, Persnicket Press (on hiatus) and has a prose chapbook about natural and personal histories of the Texas desert prairie forthcoming from MIEL.

Image credit: gjohnstonphoto / 123RF Stock Photo