OUTSIDE MYSELF, a young adult novel by Kristen Witucki, reviewed by Donna W. Hill
OUTSIDE MYSELF
by Kristen Witucki
Wyatt-Mackenzie Publishing, 232 pages
reviewed by Donna W. Hill
Purchase this book to benefit Cleaver
Superbly written, Outside Myself by Kristen Witucki gets to the heart of the human experience. Blended and broken families struggle with issues that tear parents and children apart. Trying to do their best, they are fettered by incomplete and often false information. At the center of it all, two very different blind characters, determined to create their own place in the world, grapple with the negativity in their families, communities and themselves.
Outside Myself covers roughly fifteen months from May 1994 to August 1995. It is told by two narrators; Tallie, a young and precocious blind girl, and Benjamin, a withdrawn grandfather who works at a library for the blind. They represent different age groups, genders, races, belief systems and causes of blindness, growing up in different eras with different rights under the law.
Tallie, the child of a broken marriage, attends a Christian youth group, where she realizes that some of the kids want to pray for her healing. She wonders why so many people are invested in her becoming sighted. Whether through medical advances or faith healing, their actions say they can't accept her as she is. Even her father believes he must keep her safe until she can get an operation to restore her sight. Tallie knows what being ostracized and bullied means, but she grapples with her own insensitivity to others.
Divorced and estranged from his family, Benjamin rents a tiny room in the house of an elderly woman and her thirty-five-year-old, dope-smoking grandson. Through memories of his early childhood, we learn he once had some sight – not enough to fit in with the sighted world and too much to fit in the visually impaired one. He was out there on his own, trying to have more sight than he did. He could focus on just one print word at a time. "Everyone was in denial about the vision problem, even me."
An avid Braille reader, Tallie wants to learn more about the cure her father has mentioned so she calls the adult section at the Library for the Blind and speaks with Benjamin. For the first time, Benjamin shares his own blindness with a client and challenges her beliefs. Tallie has never encountered a blind adult and, though angry, is intrigued by him. Their interactions help Benjamin examine his role in his family's separation, while Tallie begins to seek independence from her own family.
Witucki interweaves the two points of view with uncommon agility. Her ability to blend action, dreams, and memory allows their stories to unfold smoothly, drawing the reader into their separate worlds, even as she brings them closer together. Music, literature, and the love of learning are lifelines throughout the book. There is a commentary on Heidi, Swiss author Johanna Spyri's classic children's novel. Tallie's concern for dry leaves and Benjamin's relationship with the moon provide glimpses into their inner lives.
Misconceptions and stereotypes about blindness persist. The book helps readers consider that sighted people don't always have the answers and highlights some of the challenges they have maintaining the attitudes of hopefulness and curiosity necessary for blind people to make a leap into an independent, nonvisual lifestyle.
Witucki's experiences have placed her in an ideal position to tell this gripping and necessary story about the struggles and triumphs of life without sight. Born totally blind, she earned three master's degrees in teaching gifted students, creative writing and teaching students with visual impairments and she is the Curriculum and Content Editor, Blindness and Visual Impairment at Learning Ally, the world's largest library of volunteer-narrated books.
Outside Myself is unique in many ways, not the least of which is its double, first-person point of view. Carefully constructed with clear, concise language, nuanced characters and unexpected twists, it is an inspiring and enjoyable read. This beautiful and honest story of a mentor relationship reaches into several worlds to expose the deepest pain and the greatest triumphs of the human spirit.
---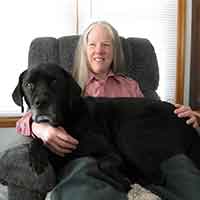 Donna W. Hill is the author of the educator-recommended young adult novel The Heart of Applebutter Hill, a fantasy for middle school and older readers. Find it in print and eBook versions through Amazon and other outlets. It's available through Bookshare and Learning Ally for readers with print impairments. A former Philadelphia street performer, songwriter and recording artist, Hill lives in Pennsylvania's Endless Mountains with her husband, her guide dog and their rescued kitty. Learn more at DonnaWHill.com
Purchase Outside Myself in Print, eBook & Audio Formats
Outside Myself is Kristen Witucki's first full length novel. Purchase it and The Transcriber, a story for adolescent emerging readers, and follow Kristen at:
https://www.amazon.com/Kristen-Witucki/e/B00BCQVL4K%3Fref=dbs_a_mng_rwt_scns_share
Audible has Outside Myself Narrated by Stephanie Keefer and Royal Jaye. Listen to a Sample at:
https://www.audible.com/pd/Outside-Myself-Audiobook/B07CY6KGFQ
Options for readers with print impairments
Outside Myself is available through the National Library Service for the Blind & Physically Handicapped (NLS), part of the Library of Congress. Both books are also available through Learning Ally.