ONE OF THOSE WORLDS by Steve Klepetar
ONE OF THOSE WORLDS
by Steve Klepetar
Returning from the kitchen one night, you stumble
into one of those worlds where dogs breathe fog
and foxes roam through orchards near where your
mother grew up, a circular tower house where you
looked out a narrow slit of window to call home
the stars. It was April then, and snow receded slowly
in patches on struggling grass. Sometimes you could
fly then, on webby wings that snared early morning
light. Sometimes you would slither in the mud.
There was always work to do, conspiring with bushes
and trees, colluding with frogs and snails and snakes.
Cold mirrors lay shattered, glinting in dangerous piles.
Spring rain spoke another, older language then.
Streams swelled clotted consonants against your tongue.
---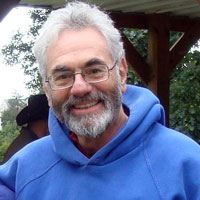 Steve Klepetar's work has received several nominations for the Pushcart Prize and Best of the Net. Recent collections include Speaking to the Field Mice (Sweatshoppe Publications), My Son Writes a Report on the Warsaw Ghetto (Flutter Press), and Return of the Bride of Frankenstein (forthcoming from Kind of a Hurricane Press).
Image credit: Neal Herbert on Flickr for Arches National Park