MOTHER-MAILBOX, poems by Emilie Lindemann, reviewed by Rachel Summerfield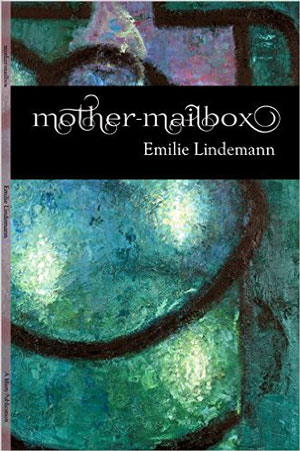 MOTHER-MAILBOX
by Emilie Lindemann
Misty Publications, 74 pages
reviewed by Rachel Summerfield
The cover of Emilie Lindemann's slim, cool-toned collection mother-mailbox feels like overturning a smooth river stone: melancholic, calming, blue, yet lit by spots of bright firefly light. The sense of quiet mysticism punctuated by sharp yellow alacrity infuses the entire collection: one woman, or two or three or all of us, confronting and examining the differences and similarities between the mythos and the materiality of womanhood as mother/creator, seeking comforts and confronting realities and dangers that come with this struggle. Lindemann performs the making of motherhood in an unusual, unique way; it is less about the symbols of mystic mothers themselves and more about what it is to carry or miscarry a child in the modern world and how that can feel like a between place, like a "leaking or tearing or stretching or / entering/ the unknown."
The collection is broken into five parts, all which feature imagined epistolary or persona conversations with a rotating cast of real and unreal female characters as well as Lindemann's more inward-looking poems. The first section, invocation, consists of just one poem that serves as a lens for how to read the collection. Here readers are faced with several recurring patterns: sumptuous comfort food juxtaposed with tedious and often dissociative reality (such as sorting through a box of "forgotten brown glasses / but none are yours") and the will'o'th'wisp character of the mother, who is rarely tangible, yet whose importance lies in knowing that "to write about your mother is to write about yourself."
As we work into blighted (oh!)vum, we learn about the first of Lindemann's female heroes, who falls in and out of Lindemann's respect as she becomes more or less like an average woman. Two epistles to Kate Middleton demonstrate the rise and fall of Lindemann's sympathizing with and distancing from Middleton's (royal) pregnancy and unborn child: ("Do princesses / miscarry too?"). This section also introduces the feeling of emptiness and loss, echoed in the form of the poems by the use of brackets and spaces. Lindemann attempts to convey and explore the tricky notion of female pain, what it is to be "nothing but                  air," nothing but an empty wrapper or "vending machine / bubble without a ring inside." The eventual acceptance of Kate Middleton's pregnancy brings with it a simultaneous rejection of Lindemann's hero, which shows a serious lingering concern with concealing imperfections in herself and the unseen aspects of womanhood: "my jeans covered my imperfections and I was / young and beautiful".
In letters to Lorine Niedecker, readers are introduced to a second heroine—fellow Wisconsinite and Objectivist poet, Lorine Niedecker. Niedecker represents all aspects of solace-seeking and comfort for Lindemann; she is "Mama pajamas" and a "wooly womb" of blankets. Niedecker's confiding ear and the fact that she also purportedly lost children (twins that she named Lost & Found) occur again and again in melancholy symbols in the form of blue, in the form of birds. Lindemann seeks comfort from but also provides comfort to Niedecker, imagining her adult daughters as cool twin "ghost princesses," eternally young poet daughters, and then again as younger, Alice-like versions, sipping from wombic "pink cups so fragile / they would have fractured under your pressure." Some poems feel rueful, as if written by a woman who doesn't feel real, and some poems are playful, including child-like, frantic wordplay ("fiddles while a whippoorwill sings," "Found always chases cheese wedges," "Mother is azul, a blue stool, a girl out of secretarial school") to fill in gaps left by the earlier sparser and more physical poems.
In the Livija letters, Lindemann introduces us to another quiet Wisconsin woman, the photographer Livija Patikne. In the poem Livija Is My Home Girl Lindemann is at her most concrete, likening Livija to a home ("my floral interior. / My         space bar"), but then she cleverly goes on to undermine her earlier feminine symbols: "Don't say the word 'bloom' / Don't say 'garden' or 'vase' / or 'virgin in a custard cup.'" Lindemann coexists quietly with Livija in her space full of flowers until she must walk forth into the unknown of the contemporary world. Livija is perhaps the most mysterious of the women because she "left no instructions" for her work and seemed to live and create in a quiet, private, liminal slice of years going by. Lindemann makes Livija's legacy, and by extension her own, almost reflect an Arthurian or Snow White-like grandeur, a playful juxtaposition of youth and love with the seriousness of time passing: "She left daisies / layered / over daisies, / a dense canopy / of fragrance … also / All those cross-stitched pillows / lined up / like pool boys / on the sofa."
In the last two sections of the collection, readers will experience a departure from epistles and a return to the more self-focused and emptiness-themed poetry at the beginning of the collection. In fireflies, we experience an in-between, "untethered" space, shot through with blue, blue, blue and the bright comforts of white and yellow light: "The sky is dark teal shot with the kind of white that glows." While trying to ground herself with comfort food described with the complexity of a fine four-course meal ("cryptic wedges of brie spackled with jam on Ritz crackers"), Lindemann confronts reality, asking question after question like a fretful patient might ask a doctor: "Was it really that dark?" "Should it really be this red?" "Is that what it really said?" In nesting, the reality of the baby, for so long a wisp of a thought, suddenly becomes a startling reality, and normalcy settles in: at first somewhat recalcitrant (brilliantly enjambed: "how she tears / ribbons / from Better Homes & Gardens"), and soon becoming (using "How your…" as a refrain) as dreamily described as her earlier poetry, as new and fresh and floating as a newborn. We end on the peaceful Postpartum flying lessons, in which the body is no longer coded negatively (within one poem, the body goes from "how postpartum back / thigh / arm cushioning" to "this beautiful flesh-coating") and the mother and child are anointed "zinnia-rich, dandelion-driven, clematis-streaked / and soaring."
mother-mailbox is a private life, the private mode of womanhood, made public for all of us who have ever felt empty, questioned if there was more (or made new subs out of Subway sandwich wrappings to feel such a thing) and questioned how we should be feeling, but also those of us who have found beauty and humor in the "fade-proof plum lip-root mess" of it all, for those of us who seek a home within ourselves and those we make of ourselves; for those of us whose mothers or children have made spiraling, fairytale messes in our lives, flitting in and out as fragile as a flower until they suddenly take solid root. With mother-mailbox Lindemann will take your hands and guide you through her mother muses and musings, and you will come out feeling Odyssean or Penelopeian, as if you had lived an entire life in the span of a few pages, waiting for something until the very thing you have been waiting for fulfills you, or at least reminds you that there is some beauty to be had after all of this energy in, energy out.
---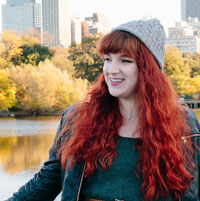 Rachel Summerfield lives in Chicago, where she recently graduated from DePaul University with a degree in Creative Writing. She is a member of Chicago-based poetry team Poems While You Wait and enjoys writing for and reading various local publications. You can find her work in Word Riot, Split Complementary: Poems, and the While You Were Waiting: PWYW Live @ 5 Antholozine. When she is not writing or reading, she enjoys theatre, painting, cooking, and maintaining her cat's Instagram.