MELIAI by Heather Bourbeau
MELIAI*
by Heather Bourbeau
He knew where to find her, amid the Spanish moss hanging from trees, along the creek the locals called a river.
He knew she sought the sensation of being at once small and large. As a girl, she would paddle under the trees and pretend the moss was her hair—long, soft, tangled, and tender. She felt protected, wonderfully alone, even when he would find and bring her home.
He knew that after the arrangements were made, the barely-used name shared and honored, the achingly small coffin lowered, she would run to hold moss, feel safe, mourn among her roots.
*In Greek mythology, the Meliai were nymphs of the ash tree.
---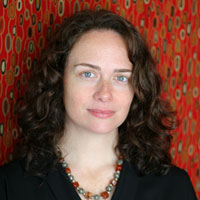 Heather Bourbeau is a Berkeley-based writer. She was a Tupelo Press 30/30 poet, a finalist for the Randall Jarrell Poetry Prize, and winner of the Pisk! Poetry Slam. Her journalism has appeared in The Economist, The Financial Times, and Foreign Affairs. Her first collection of poetry, Daily Palm Castings, profiles people in overlooked professions.
.
Image credit: J. Andrew Flenniken on Flickr