INHERENT RISK by Danielle Holmes
INHERENT RISK
by Danielle Holmes
My mother told me nothing is safe. I grew up fenced in playpens, leashed like a dog, harnessed in strollers. I was buckled and belted, handheld and sandwiched, life-vested, sunblocked, helmeted, braced, and warned. My vaccines were up to date, my laces double-knotted. She told me never go out alone. My friends weren't friends but "buddies." Each time I built up the courage to timidly test the limits of her invisible fence, things went wrong. I thought, maybe she was right. Or, this was a bad idea.
All of her warnings coalesced in the dark recesses of the parking garage. Cement columns and cars threw shadows that sheltered rapists, murderers, gangsters, and thieves. When I got a high school job at the mall, she gifted me pepper spray in my Christmas stocking. Never park on the same level twice, she told me. Have your mace in one hand, your key clenched in the other. Call a security guard to walk you to your car if you can, but only if the security guard is not a rapist or a Republican. She scowled at the high heels I was required to wear, said, they'll only slow you down. Have you heard about the men hiding beneath cars that cut your Achilles while you're unlocking the door?
At twenty-four, I started going on hikes alone. I'd been thinking about it since I first fell in love with the outdoors as a teen, and it had taken me some eight-plus years to gather the pluck. My mother tried to talk me out of it, recited statistics about mountain lion maulings, trotted out facts involving landslides, forest fires, snake bites, and hypothermia. Did you know that bears are drawn to menstruating women? she asked, then bought me a knife the size of my forearm with a compartment for waterproof matches, flint, and a space blanket. She sent emails about foraging for edible plants, gifted books about a hiker having to cut his own arm off or eat his frozen brother. She put a jingle bell on my trekking pole to scare the animals away, a rape whistle around my neck to scare the men away. I'd gone years without incident until the day I rounded a corner of trail close to the tree line and nearly tripped over a deer carcass, entrails still steaming, tufts of fur and sinew leading into the brush. I thought, maybe she was right. This was a bad idea.
I started staying closer to home; things felt safer out of the wilderness. A door-to-door vacuum salesman asked to use my bathroom one afternoon, and while my mother's voice screamed it isn't safe!, it also chimed in don't be rude! and during the cranium cage fight of her maxims, the salesman flushed and walked into the kitchen, where he studied my refrigerator pictures, then said, "So, you live here all by yourself?"
The security system I purchased was top-of-the-line, monitored doors and windows, allowed me to check in on things from my phone when I wasn't at home. It made me feel much safer, until I awoke one night, horrified at the realization that the man who installed it knew my codes, how to disarm things—he most certainly was watching the goings on of my house from his phone!
There wasn't much yard space for the Dobermans, but I left them with a tug-of-war toy in the back to encourage exercise and keep their killer instincts sharp. I would have liked to walk them to the park in the evenings, but everyone knows that parks are full of drug dealers and delinquent teens that are housing extremely dangerous hormone levels and a deadly lack of frontal lobe development. Instead, my dogs and I ran neat circles around the perimeter of my back yard. We wore down a path.
One slow Sunday morning, I sat near my front window with a mug of coffee (reasonably cooled to a safe drinking temperature), dogs at my feet, updating my firewall and watching a few neighborhood children ride their bikes around the sidewalks and into my driveway. My mother had recently sent an email, the subject line all caps: URGENT. It explained that gang members had been using "lost" or "injured" children asking for help in order to lure women into their clutches. Outside, one of the kids was sitting beside his overturned bike, fists tight balls in his eye sockets. The little bastards. I snapped shut my curtains and put in an order for electric fencing.
It was about this time I discovered one can have groceries delivered, circumventing the germ-ridden, vagrant-filled cavities of the supermarket. Did you know you can catch foot-and-mouth disease from shopping cart handles? I always answered the door with a taser in my waistband, the Dobermans snarling behind my legs. Last time the delivery man's finger brushed mine as he handed over the package. The website directory of registered sex offenders is surprisingly easy to navigate.
I ordered a twelve-disc self-defense DVD collection starring a former Navy SEAL for only three small payments of $24.99, kept a baseball bat leaning against the wall behind the front door, got a concealed permit, and purchased a handgun. I planted thorned hedges behind the electric fence and dug stakes beneath the windows. I sharpened my canine teeth with a nail file and fashioned a chastity belt out of scrap metal. When the Dobermans were off duty they would come to me in the hunting blind spread out in the living room, place their questioning snouts in my lap. We're ready, I'd assure them, to live without fear.
---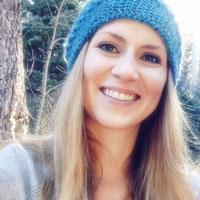 Danielle Holmes holds an MFA from Bennington College. Her previous works have appeared in daCunha, Pilgrimage, and P.U.L.P. In 2015 she was a finalist in the Dana Awards and in 2014 was nominated for a Pushcart Prize. She lives in Colorado.
Image Credit: Serge Kutuzov on Unsplash
You may also like:
TIME HEALS, EVEN YOUR DRAFTS: Three Key Realizations for Revising Your Novel, A Craft Essay by Wendy Fox
SWIMMING LESSONS, a novel by Claire Fuller, reviewed by Elizabeth Mosier