YET SOMETHING DEEPLY FAMILIAR: The Photography of Natalie Christensen

YET SOMETHING DEEPLY FAMILIAR
Photographs by Natalie Christensen
Photographer Natalie Christensen has an inimitable, and enchanting, focus on the exploration of the more banal peripheral landscapes that often go unnoticed by the casual observer. "I quickly became aware that these isolated moments in the suburban landscape were rich with metaphor. Closed and open doors, empty parking lots and forgotten swimming pools draw me to a scene; yet it was my reactions to these objects and spaces that elicited interpretation and projection."
Christensen had worked as a psychotherapist for over twenty-five years and was particularly influenced by the theories of depth psychologist Carl Jung. This influence is evident in her photographs, as shadows and psychological metaphors are favored subjects.
"The symbols and spaces in my images are an invitation to explore a rich world that is concealed from consciousness, and an enticement to contemplate narratives that have no remarkable life yet tap into something deeply familiar to our experience; often disturbing, sometimes amusing…unquestionably present."
In Santa Fe, where Christensen is based, her work is inspired by commonplace architecture and streetscapes. She realizes that the places she frequents for her images are probably not what people visualize when they think of Santa Fe, a major tourist destination with a carefully cultivated image. "I don't have to go anywhere special to make my photography; instead I find my images around shopping centers, apartment complexes and office parks." Choosing to shoot in locations that may be viewed as uninteresting or even visually off-putting, Christensen finds this challenging, to "see" something hidden in plain sight, noting "it is our nature to ignore what is unpleasant, but sometimes I get a glimpse of the sublime in these ordinary places. When I find it, it feels like I have discovered gold."
Christensen is repeatedly drawn to the swimming pool as a metaphor for the unconscious. In American culture, pools symbolize the luxury of leisure. Yet she also sees a darker interpretation — evoking repressed desires, unexplained tension and looming disaster. "These photographs of a manufactured oasis suggest a binary connection between the world above and the world below, linking submersion in water with the workings of the subconscious."
She dismantles all of these scenes to color fields, geometry and shadow. She shoots every day and is almost never without a camera. Enjoy some of her work below!
[click to enlarge any image]
---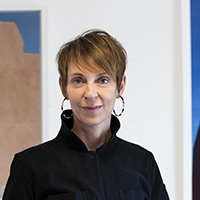 Christensen has exhibited in noted museums and galleries in the U.S. and internationally, was a UAE Embassy invitee for a UAE Architecture Delegation tour, has been invited as Artist-in-Residence to Chateau d'Orquevaux, France, and a photobook, 007 – Natalie Christensen, has recently been published by Setanta Books, London. She has guest lectured at the Royal College of Art and led photography workshops at The Royal Photographic Society, London, and Meow Wolf, Santa Fe.
Named one of the Los Angeles Center of Digital Art's "Ten Photographers to Watch," Christensen is the recipient of several prestigious photography awards, has work in permanent collections, and publications include The Guardian, Creative Boom, The British Journal of Photography, LandEscape Art Review, Art Reveal Magazine, Aesthetica Magazine, and Magazine 43. Christensen is represented by Catherine et Andre Hug Galerie, Paris; Turner Carroll Gallery, Santa Fe; Nordic Art Agency, Malmo; and Susan Spiritus Gallery, Newport Beach. Visit her website at nataliechristensenphoto.com