House of Mirrors by Neal J. Suit
House of Mirrors
by Neal J. Suit
The police cruiser appeared as the dusty orange of dusk settled. The car's lights and sirens remained off because it wasn't an emergency. Rumors swept across the town. Katie had run away. She was abducted. She hurt herself.
Two days passed. No one saw Katie. She vanished over an eight-block area, disappearing between a pharmacy and her front door.
A week passed. Her mother navigated the house alone, abandoned years before by the man who called himself Katie's father. Her mother taped pictures of Katie on telephone poles, storefront windows, and coffee house billboards. The refrain became familiar: Missing 14-year-old female, 5'2", 105 pounds, short blonde hair. As if everyone didn't already know. As if everyone didn't catch their breath when they glimpsed chin-length blond hair. Katie's mom wandered the empty town at night, a single beam of light from a slowly dimming flashlight that became a fixture in alleys, backyards, and parking lots. Seeing her searchlight, people called the police to report a burglar. After a few days, no one said anything. Then, nobody even noticed.
Two months passed. Her mother preserved Katie's room. Katie's laptop was open and her shoes nestled, laces tied, in pockets that hung on the back of the closet door. The bed was unmade, the sheets holding Katie's scent. Her mother cleaned the room every day so the time capsule would be unchanged, the passage of time unmarked. People left casseroles and plates of sandwiches covered in Saran Wrap on her doorstep. The food piled up like a memorial coated in shimmering plastic waiting to be removed for the unveiling.
Four months passed. The doorstep was empty. Her mother lined each room and hallway with full-length mirrors. They captured every cob-webbed corner, nook, and cranny. In case Katie was tucked away in a special hiding place, waiting to shout "surprise!" In case they had forgotten to look under a bed or behind a couch or in a closet. She angled the mirrors towards the sky because maybe Katie had learned to climb walls and ceilings, perched there, waiting to be found.
Six months passed. Katie's mother barricaded herself in the house. She kept the lights off because the darkness made the line between reality and hope a little fainter. She roamed the halls like a night watchman looking for an intruder. She whipped her head around without warning, attempting to catch her unsuspecting daughter's face checking in on the mortal world from behind the glass. Katie's mother gazed at herself in the reflective glass, tracing the bones of her face, trying to draw her daughter's smile, her laugh.
Two years passed. Katie's mother died on a Tuesday night. The police cruiser parked outside the house at dusk, its lights and sirens off because it wasn't an emergency, the damage already done. Rumors prattled on loose tongues. She swallowed a handful of pills. She starved herself. She lost the will to live.
Katie's mother left a handwritten note. She asked to be buried with a mirror peering down at her body so that Katie could see she was at peace.
The officer crumpled the note and tossed it into a trashcan filled with shards of broken glass. As it settled in between pieces of glass, the paper crackled, a faint whisper, a soft exhale.
---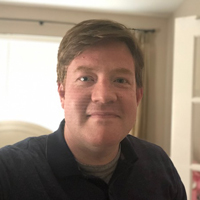 Neal J. Suit is a recovering lawyer. He has short stories published or forthcoming in Five on the Fifth, Literally Stories, Mystery Weekly, Cleaver, Bandit Fiction, Blue Lake Review, and (mac)ro(mic), among others. He can be reached on Twitter @SuitNeal.
Cover Photo by Rostyslav Savchyn on Unsplash