COMPOSURE by John Goodhue
COMPOSURE
by John Goodhue
As you remember, we were taught
how to skin the flesh from an ear
so to show that all things at some point
forget human form. The details hatch from your tongue
to mine like flies; there was a basilica of mangroves,
a green hue to the sun, the odor of burnt okra. There was
the man and woman floating beyond in the water, too many
wet stones shoved into their throats. There were vines
you swore formed a cross, while others
an iron lung. But is this enough? What about
the way in which the tissue danced, the way it lurched
onto the mossy carpet as if memorizing some foreign waltz?
Have you once thought back to the moment when, by ritual
or otherwise, my scalpel kissed the wrong membrane,
gave heed to the facility of a mortal hand
to make silence? I know what I remember –
there was very little in your eyes. Perhaps this
is why they closed when the lesson
was halted, when finally, the blood we spilt
responded to god before giving itself to gravity.
---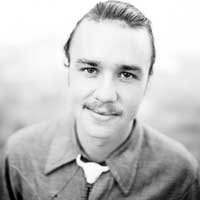 John Goodhue is a graduate of Western Washington University. His poetry has been published in Spoon River Poetry Review, Knockout Magazine, Extract(s), and burntdistrict, among others. He currently resides in Seattle.