AT THE BEACH by Debra S. Levy
AT THE BEACH
by Debra S. Levy
When they pull in, the lot is crowded. In the distance, the sun begins descending behind a curtain of wispy clouds.
Water roils onto the sand and seagulls and plovers retreat to dry land. But when the water recedes they jaywalk back onto the glistening surface, picking off lake flies and dead minnows.
The sun is a pink iris closing on a dappled blue-black sky.
Rest assured the world will come to an apocryphal end. You should never count your chickens before they fly the coop.
"I want a good tan," the girl with the parrot tattoo on her shoulder says, spreading her blanket just so.
In other years they would not have minded the trouble that has come to them; they would have outrun it as easily as if they'd turned a corner onto the darkest street in town.
Beach detritus: crumpled Mylar balloons, pink and yellow ribbons, cracked plastic cups, a wine cork.
He said: "If you'd seen them run into the lake like that you'd have wondered if they hadn't been raised in a barn."
On the horizon where water meets sky—Wisconsin.
Cone-suckers lean against the warm cars, engines still pinging. They lick waffle cones mounded over with ice cream—Blue Moon, Eskimo Kisses, Caramel Caribou, Mackinac Island Fudge. There are other flavors at House of Flavors, but the couple stormed out with grease still glistening on their fingertips. "That's all I'm saying," he pleaded after her.
There, can you see it over there?
Sunsets are a big deal in a tourist town. Everybody comes to this beach on Lake Michigan.
Forget the seagulls and plovers. They've already had their fill of the horizon.
---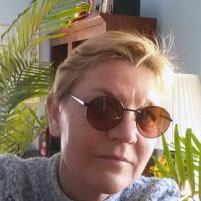 Debra S. Levy's work has appeared in Columbia, Alaska Quarterly Review, Brevity, Little Fiction, and The Molotov Cocktail, among others. She writes fiction and essays, and blogs about dogs and cats at www.cdogco.com. She lives in Indiana and Michigan.
Image credit: Indy Kethdy on Flicker