ALPHA ∞ OMEGA by Laurin DeChae

ALPHA ∞ OMEGA
by Laurin DeChae
Unveil, prophet. Write me the end first where you find comfort
And tell me when the time is near to suck sweet from the vine.
Feel that atmospheric friction, surge of pressure, curl of toes to shriek
Just above our heads the rise and fall of history, of man deepening ravines.
How the body changes form when it pleases, how it
Shifts shape for both right and wrong reasons. Water to wine.
Whiff of honeysuckle memory gently rests its head on your shoulder,
Think of bread, of mouth dry, of want as tendrils touch cheek to vine.
Let knowing lull you to sleep with fantastic imaginings of the end,
All gold and glitter, razzle dazzle and stars, glitz at the end of the divine.
---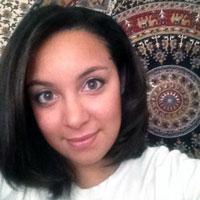 Laurin DeChae is a M.F.A. candidate for poetry at the University of New Orleans, where she acts as the associate editor for Bayou Magazine. She is active in the fields of education and composition, assisting in programs such as the Greater New Orleans Writing Project, Scholastic Art & Writing Awards, and the Tennessee Williams Literary Festival. Her work appears or is forthcoming in Milkfist, Harpur Palate, and S/WORD.
Image credit: CIA DE FOTO on Flickr