Two Poems by Will Stanier
Two Poems
by Will Stanier
The Garden
The stage curtain of my dreams
needs an alteration. Ka-Pow!
Ambient billiard balls. "It's always
broccoli with you." And it is!
Be gone, beasts of the forest! Black and green
iguanas. The infamous snake with
its head chopped off, the length
of its body a petrified curl. I walk along
the beach because it's an easy decision.
I see ships hung like ornaments from
the horizon. I cannot reach them.
◊
Poem (In Traffic)
Some bigwig bequeathed
a circle, suddenly I'm in it,
and I'm tuckered. Notwithstanding
any upstanding upstarts, or stand-ins.
It starting with an up-and-coming
someone-or-other campaigning
for an obstacle, otherwise called
a roundabout. It's all otherwise
with me. My inexplicable sappiness
opens two enormous eyes.
My elbows clog according
to their engineering. "People have
jobs nowadays," you say.
Well, I disagree. I'll curate
the sleepover, then step into
a doozy. The neon cursive of
my dream requires supplication.
So I supplicate.
---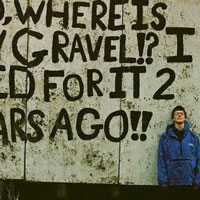 Will Stanier lives in Tucson where he is an MFA candidate in poetry at the University of Arizona. He is the author of the chapbook "Fakie" (Invalid Press). His poems have appeared or are forthcoming in tenderness, lit; Yes Poetry; TL;DR; and Partial Zine. He edits and designs at i.e. press.