WALKING THROUGH THE UNDERWORLD by Stella Hayes

WALKING THROUGH THE UNDERWORLD
by Stella Hayes
out my window colored heads bound in swiftness. in their decision to bring about movement
& motion. the snow is taking a break from falling, as it did just days before. the village is
painted in primordial gray, with roofs in color too happy even for a rainbow. eavesdropping
on a father being mourned at the mouth of the coroner's bed. the aroma of death. a father
& daughter lost to loss's gravity. a walk through the underworld would have to wait. his body
wasn't friendly overnight. forgetting that it was capable of carriage, despite the force of gravity;
forgetting it was self-possessed, despite being broken down. anyone it keeps bumping into
when awake; it made what sounded like a voice of pleasure. but as closely as I allowed myself
to hear the bedtime fury, he was letting out what sounded like a body's pain; wrestling to bring
itself respite. at least overnight. at least it should have been given a break. like in a fist fight
for survival. the mercury line inside the thermometer rising & rising. in cold flurries, the snow's
motion resting, motionless. he inside the fury. I am with him, right hand on his forehead; as he is,
inside a breath, cataloging heat & cold. in hope of cooling. in hope of slipping free from the heat.
I am crossing a field with banks of too much snow. the grieving child watching with her eyes,
as she has seen too much too. you won't recognize me. I see a twin likeness in the shadows,
under a thin light. we will be shadowless; skipping through somewhere where we can't
or won't want to be from
---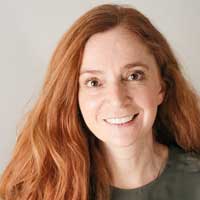 Stella Hayes is the author of the poetry collection One Strange Country (What Books Press, forthcoming in 2020). Stella Hayes grew up in an agricultural town outside of Kiev, Ukraine and Los Angeles. She earned a creative writing degree at the University of Southern California. Her work has appeared in
Prelude, The Hunger, The Indianapolis Review, Small Orange, and Spillway, among others.