TURNING RIGHT ON CASSADY by Miriam Libicki
Miriam Libicki, Introduction by Tahneer Oksman


TURNING RIGHT ON CASSADY: A Visual Narrative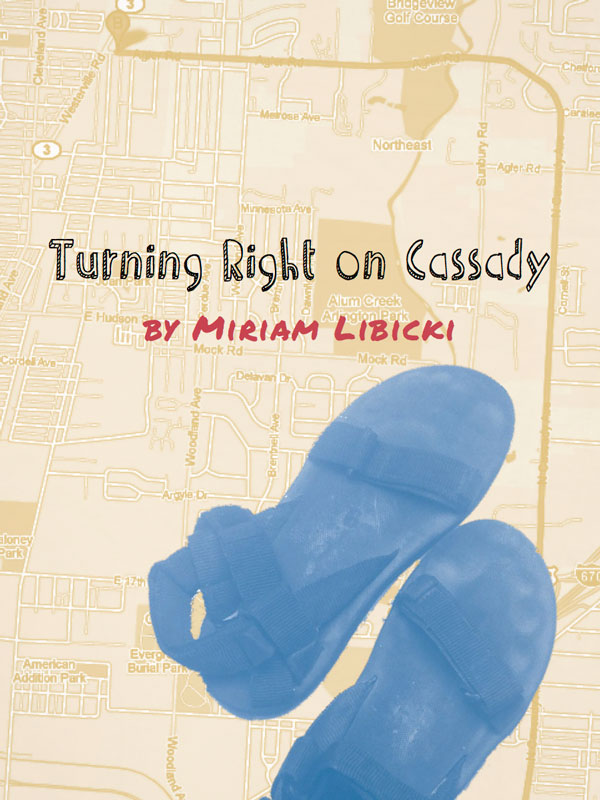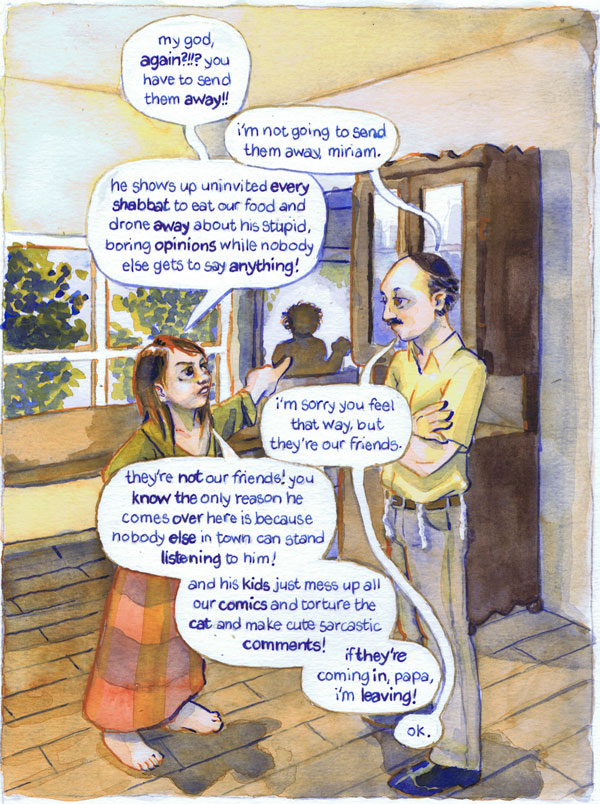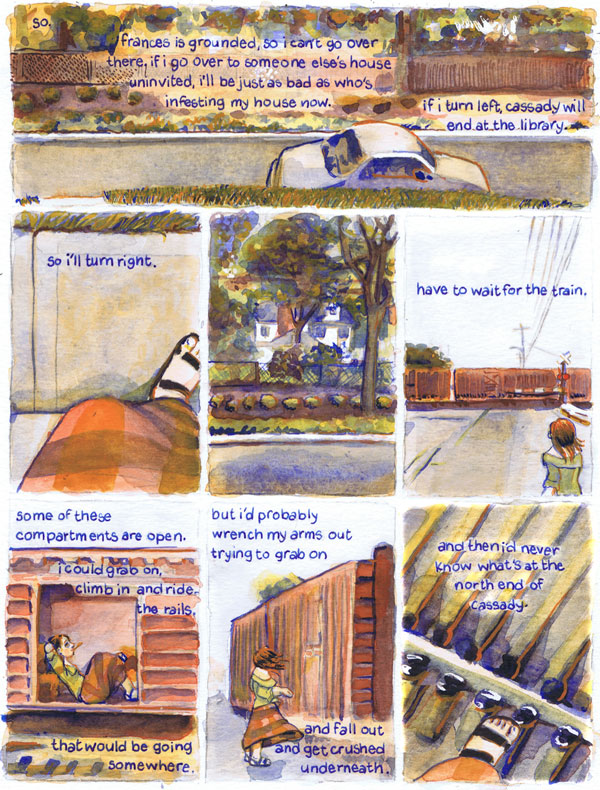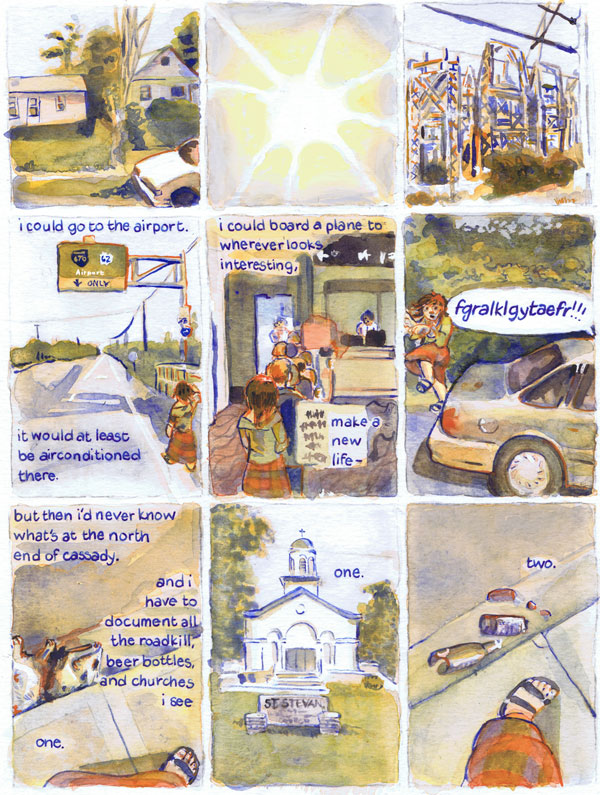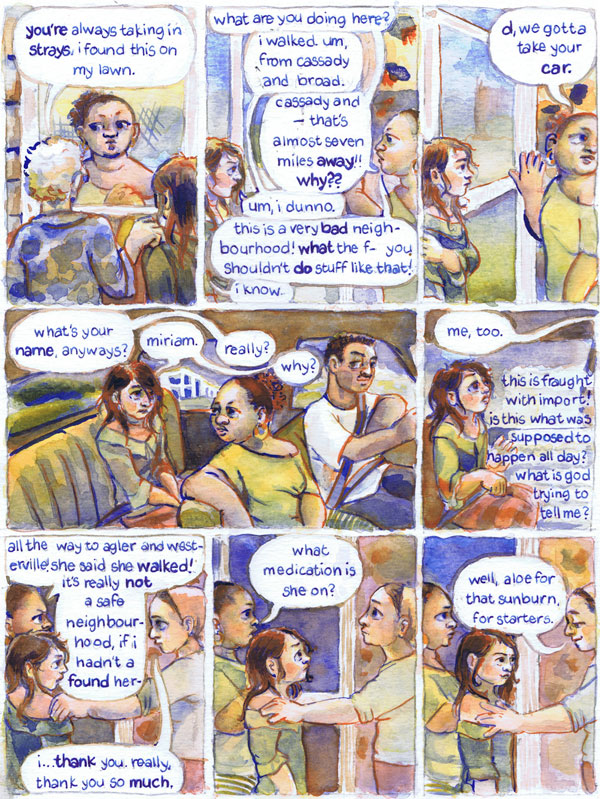 The cover image of Miriam Libicki's five-page comics essay, "Turning Right on Cassady," shows an oversized and emptied pair of sandals superimposed on a street map of Columbus, Ohio. Sandals, and feet more generally, feature prominently in this short but evocative piece, which recalls a teenager's fitful and defiant walk across town to get to the north end of a street that touches home.
Those familiar with Libicki's work will recognize in this short essay the themes of alienation, rebellion, and rootlessness that wind their way through her semi-autobiographical serial comic, jobnik! As in "Turning Right on Cassady," the protagonist of jobnik! is often in search of a tangible connection to place, a place whose absence expresses itself through an intangible sense of longing and disconnection. Here, in short bursts of colorful images, the narrator's observations of the sights and scenes that surround her, each bound in symmetrical rectangular panels, blur the distinctions between front and back, up and down, inward and outward. We are plunged into the point of view of a teenager whose conflicting needs—for independence and safety, adventure and refuge—dissolve conventional notions of time and space, and expose us to a world that feels, somehow, alluringly out of scale.
In discussing her process of putting this comic together, Libicki explained that she used Google Street View to help her reimagine the journey. As she described it, "One afternoon at my computer I virtually reenacted the whole walk." In "Turning Right on Cassady," the reader, too, is invited on a virtual reenactment, one that deploys the power of comics to allow you to walk a mile (or seven) in someone else's Tevas.
–Tahneer Oksman, March 2015
---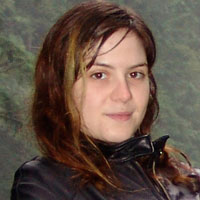 Miriam Libicki was born in Columbus, Ohio. After living in Jerusalem and Seattle, Washington, she is now based in Vancouver, BC. She completed her B.F.A. from Emily Carr University of Art and Design and is currently completing her M.F.A. in creative writing at the University of British Columbia. She is the creator of the autobiographical comic series, jobnik!, which recounts her service in the Israeli army during the Second Intifada. Her other nonfiction comics have been published by Rutgers University Press, Alternate History Comics, The Ilanot Review, and jewcy.com.

---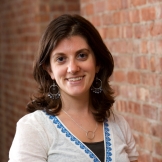 Tahneer Oksman is the Graphic Narrative Reviews Editor for Cleaver Magazine. Her book on Jewish identity in contemporary women's graphic memoirs is forthcoming from Columbia University Press. She is Assistant Professor and Director of the Academic Writing Program at Marymount Manhattan College.
Read more from Cleaver Magazine's Issue #9.