THE BOOK OF ATLANTIS BLACK: THE SEARCH FOR A SISTER GONE MISSING, a memoir by Betsy Bonner, reviewed by Laura Smith
THE BOOK OF ATLANTIS BLACK: THE SEARCH FOR A SISTER GONE MISSING
by Betsy Bonner
Tin House, 272 pages
reviewed by Laura Smith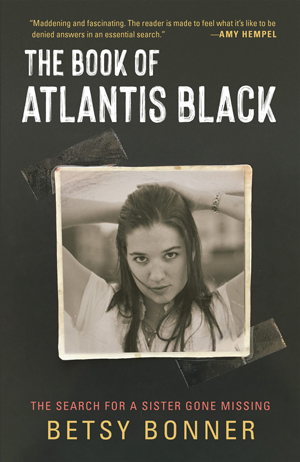 "Remove toxic people from your life" is one of today's modern mantras. It's easy advice to give, but it can be impossible to follow. Author Betsy Bonner can vouch for this. Her personal history is steeped in family toxicity: an environment of abuse, uncertainty, and guilt from which she just can't shake free. Bonner knows this. She also considers herself the lucky one.
In her memoir, The Book of Atlantis Black: The Search for a Sister Gone Missing, Bonner writes, "My own life has been shaped by what I inherited; most of all, my sister's story." Her sister, Atlantis Black, the self-named alias of a volatile rock musician from Pennsylvania, was found dead in a hotel room in Tijuana on June 25, 2008. The cause of death was listed as pancreatic hemorrhage brought on by a drug overdose. There was a lot that didn't add up about her death, but there was also plenty that did.
The Book of Atlantis Black isn't an episode of 60 Minutes stapled together into a neat pile of text. It's a messy, confusing tale of a free-spirited woman plagued by demons who strung along her close-knit group of friends and family so tightly that she is still a commanding presence even in death…if she really even is dead.
The word "if" is the fulcrum on which this story rests. There is as much evidence in the book to support the idea that Atlantis is alive as there is to prove that she's dead. She had a past history of drug abuse, a criminal record related to an equally sketchy prescription drug fraud case, previous suicide attempts, and a woman Bonner names "Gretchen" who suspiciously lingered behind the scenes long after the ink on Atlantis' death certificate had dried.  Any one of Atlantis' flaws or her trust in shady characters could have contributed to an accidental overdose, murder, and subsequent cover up.
The most helpful evidence for the reader, though, is not in the timeline of known facts but in the deep dive into Atlantis' past, told in out-of-order segments by Bonner who pieces together the exciting, frustrating, self-harming, and attention-seeking behavior that Atlantis exhibited. Some credit for this behavior can be attributed to unsolicited childhood trauma and mental illness. The rest of her actions are simply Atlantis being Atlantis.
Bonner lets the story do the talking, rarely sharing her emotional response or opinion about her damaged family or the mystery surrounding her sister. But the memories she's chosen to share and the proactive way in which she investigated Atlantis' death demonstrate her devotion as Atlantis' protector. The memories, both good and bad, speak for themselves and help to pack in all of the complicated emotions that are wrapped up in their family dynamic. As the sole voice of that dynamic along with her added role as detective, she flattens her voice while keeping her emotional intent apparent.
Few writers would devote their memoir to someone else's life, but so much of Bonner's life was dictated by her sister. Atlantis' latest escapade is always at the forefront, whether it was a nervous breakdown, a suicide attempt, a break in her music career, her latest girlfriend, or her scheming search for a platonic husband to save her from prison. And when things went south, she knew who to call.
The part of the family safety net is a thankless role, but it's one that Bonner willingly played. Begging her parents for money, setting Atlantis up with housing, or sending her to rehab shows how Bonner stood in for parents who were equally damaged, abusive, and neglectful. But she understood that helping Atlantis wasn't about fixing her. It was about pulling her back to shore knowing full well that she would walk out to sea again. Now that she's gone, Bonner is still throwing out her net, in case there's something at the other end to pull back.
Often with a missing person's case, there is a desire for outsiders to want to aid in the search. But it's difficult to play detective with Betsy. This book has the page-turning quality of a mystery but is lacking in a satisfying resolution. What's left to grasp onto is spectacle, reading on to witness Atlantis' next train wreck, parental blow up, or juicy post-mortem detail. This feels a bit exploitive, but it also feels like a book that would have met Atlantis' attention-seeking approval, warts and all.
Whether this book unlocks some crucial detail that leads to a definitive answer to Atlantis' death, only time will tell. I highly doubt it. The subtitle says it all. This is "the search for a sister gone missing." It's about the obsessiveness that comes in tracking down a resolution for a story that will likely never have one.
Atlantis and Betsy once agreed to meet at the Louvre in front of The Mona Lisa on the Fourth of July of any year, should Atlantis ever have to disappear for good. Bonner has never gone to see if she's there. Perhaps this lack of action tells the reader everything they need to know about the author's mindset. She's content to continue searching for clues in the past rather than pursuing resolution in the present. After all she has been through, however, Bonner has earned the right to grieve, research, and write her own way. For the reader, they have the privilege of deciding whether or not to invest in an unconventional, unsolved mystery.
---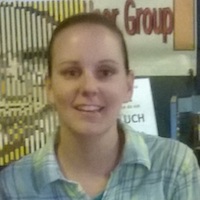 Laura Smith is an office worker, middle grade author, and blogger from Pittsburgh. She has self-published three novels and writes reviews for Horrorscreams Videovault and LitPick. Her writing has also appeared on List25, Listosaur, Ok to Retire, Ok Whatever, Support for Indie Authors, and ProWritingAid. You can find her work and more at www.laurasbooksandblogs.com.