THE BEST WE COULD DO: AN ILLUSTRATED MEMOIR by Thi Bui reviewed by Jenny Blair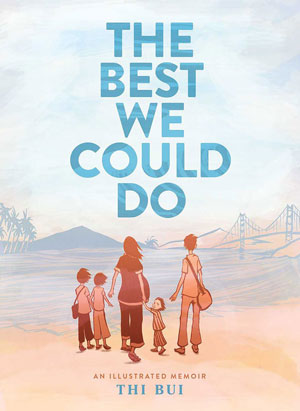 THE BEST WE COULD DO: AN ILLUSTRATED MEMOIR
by Thi Bui
Abrams ComicArts, 330 pages
reviewed by Jenny Blair
The Best We Could Do begins with birth. Thi Bui is a first-time mother in California, and her own mother–despite having flown across the country to be there–has quietly excused herself from the delivery room.
Má has her reasons, as it happens. Their names are Quyên and Thảo, and they haunt mother and daughter in this wistful, level-headed masterpiece of a family memoir. The Best We Could Do traces the journey of Bui's family, escapees from South Vietnam and migrants to the United States.
It's an important book. As Thu-Huong Ha points out, 1970s US opposition to Vietnamese refugees rivaled the opposition to Syrian refugees today, of whom there are five million and counting. And then there are South Sudanese, Somalis, Afghans, Houstonians, Puerto Ricans, and countless more. It has never been more crucial to understand and join in solidarity with people driven from their homes, perhaps never to return.
Broken in many ways long before they arrive in their new country, Bui's family stoops under the weight of memory as they build new lives. As the heavy responsibility for her new son hits Bui, "a wave of empathy for my mother washes over me." She rides that wave across the Pacific and back to her parents' own childhoods, and comes full circle to acceptance of her family's pain and to hope for her own son.
As Bui teeters between child- and motherhood, she decides to try to get closer to her parents. But that is no easy task. There persists between the generations "a chasm, full of meaning and resentment." Its depths lie in the Việt Nam the family left in 1978. Through her parents' memories and stories, and with every elegant accent and circumflex of her family's mother tongue fully respected, Bui goes "seeking an origin story that will set everything right."
Why does her father, Bố, raise his children at home in San Diego, jobless, a silent, brooding figure smoking a cigarette, occasionally exploding in anger, telling the children terrifying ghost stories? His "wounds beneath wounds," she later learns, include famine in 1940s Indochina, a sucker-kick by his own father, hiding alone as the French massacre his village in a dugout accessible only by diving underwater. All this before the age of 8.
"Afraid of my father, craving safety and comfort, I had no idea that the terror I felt was only the long shadow of his own," Bui writes.
Her mother, on the other hand, had a privileged childhood as the daughter of an engineer, attending French schools and attended by servants. She has a gradual nationalist awakening, teaching herself to read Vietnamese, visiting a servant's family in the country, then learning about her country's recent history under the French and eventually refusing to speak French outside of school. In the US, it is she who takes the low-paid job on offer, and she who eventually leaves her husband.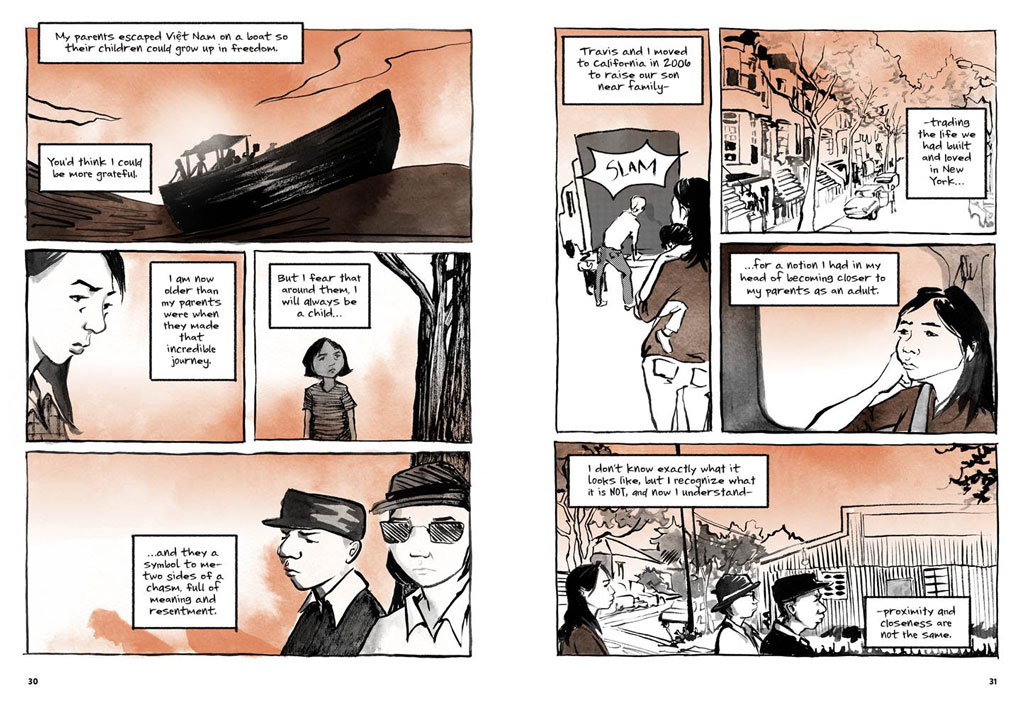 The book is a gripping pocket history of the Vietnam War and the French colonial exploitation that preceded it–the reader learns, among other things, the backstory behind Eddie Adams' famous photo of a street execution–but also a rare glimpse at the country itself in the decades before and during. Young Bố teaches himself to swim in a human-made neighborhood pond brimming with fish and shrimp, eats French baguettes and chocolate ice cream and eventually studies French literature. Then he witnesses the brutality and mass killings of the 1950s regime in the communist north before escaping to Sài Gòn. There, he does his best James Dean imitation as he dreams of a new life in Paris. Bố and Má meet in teachers' college there; she marries him, thinking he is about to die of what is probably tuberculosis. But he survives.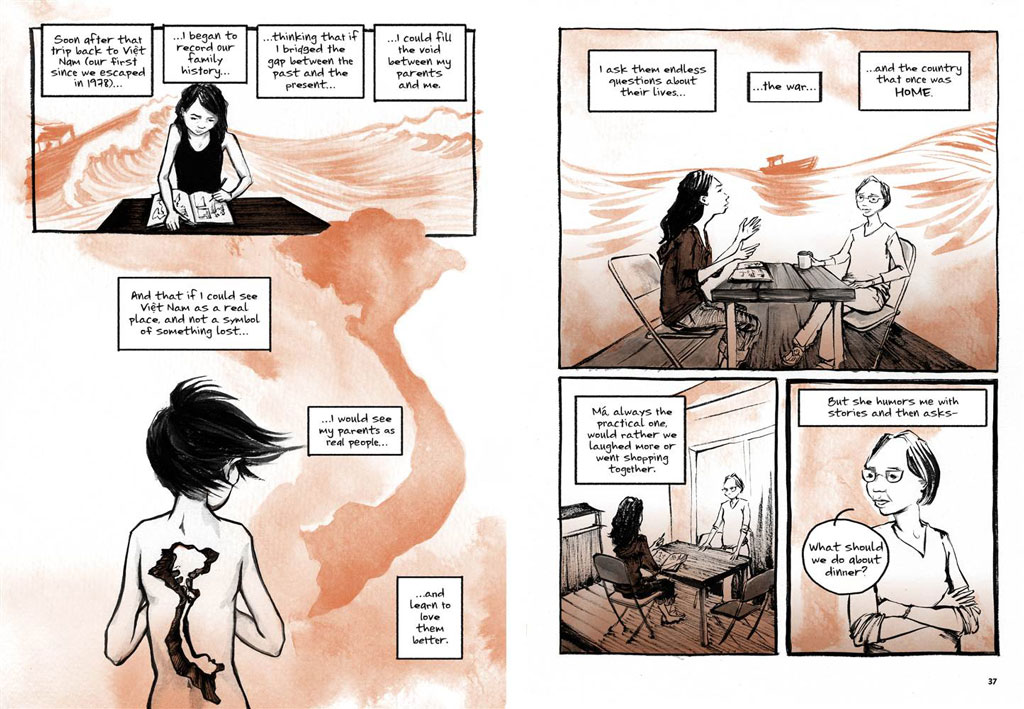 Bui's art is gorgeous. Her line work is simple and utterly expressive, and with simple black-and-white washes accented by a pale orange, she conveys every emotion with understated power, from Bố's sadness and shame when a San Diego bigot spits in his face, to Bui's own nervousness and hope when she dares to tell Má she's living with her boyfriend.
Each sibling's birth story is honored in the telling. Má gives birth to her son Tâm in a Malaysian refugee camp. We see Thảo's death before birth and Quyên's from what may have been malnutrition. Sister Bích arrives in Sài Gòn two weeks before the Tet Offensive, and Bui herself just three months before South Vietnam lost the war.
Then, after years of fear, deprivation, and surveillance, comes the family's escape, to which no summary can do justice. Statistics can't, either. An initial wave of 130,000 mostly educated and connected asylum-seekers left Vietnam for the US in 1975, and another, 2 million strong, in 1978. Many of the latter were "boat people" like Bui's family, and hundreds of thousands ended up in the United States, where they often met with xenophobia, as did Bui's family.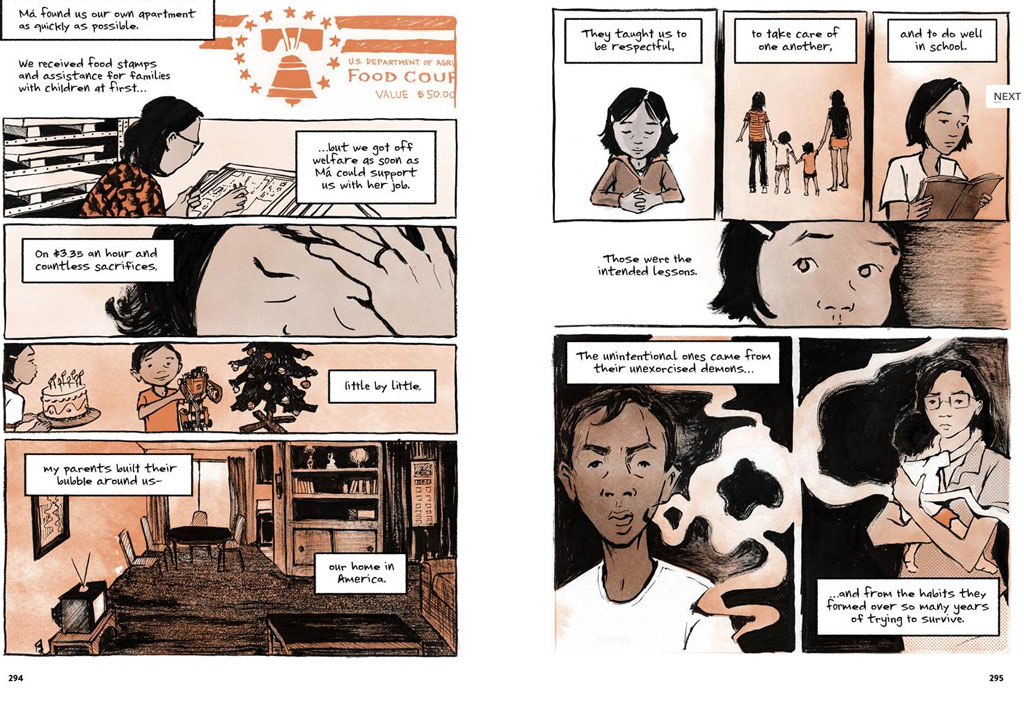 The experience makes up part of Bui's inheritance, what she calls her refugee reflex–"the inexplicable need and extraordinary ability to RUN when the shit hits the fan." As, one night in their apartment complex, thanks to cigarettes and oxygen tanks, it did.
For those who lose a country, the disorientation and the tiring need to balance on a new edge never quite recedes. The task of starting over is in some ways impossible. But Bui comes to feel boundless gratitude to her family. For her own son, "a new life, bound with mine quite by coincidence," Bui sees freedom ahead. May he be as rooted as he wishes to be.
---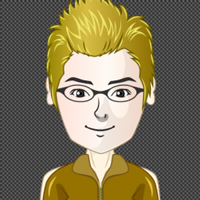 Jenny Blair writes about science, medicine, and other neat things. Formerly an emergency physician, she practiced in ERs large and small and taught young physicians with an NGO in Indonesia before switching to full-time writing and editing. Her passions include cartooning and graphic novels, permaculture, and improv comedy, as well as the importance of place. She is a fan of alternative housing and kinship models, and makes her home in the Northeast