LABYRINTH LOST, a young adult novel by Zoraida Córdova, reviewed by Leticia Urieta
LABYRINTH LOST   
by Zoraida Córdova
Sourcebooks Fire, 321 pages
reviewed by Leticia Urieta
Purchase this book to benefit Cleaver
Alejandra Mortiz is a bruja. She lives her life in the presence of death. She comes from a long line of brujas, each with their own unique manifestation of power.
But Alex, as her family and friends know her, does not revere the magical legacy of her family; she fears it. After seeing her Aunt Rosaria rise from the dead as a child, Alex is burdened by the sense that magic is not a gift, as her sisters Rose and Lula believe, but a curse. Her fear grows more acute as her Death Day approaches. This is a bruja's coming of age celebration when the manifestation of her power is blessed by her ancestors.
To add to Alex's worries, strange things are happening. She crosses paths with a young brujo, named Nova, who is a charming and suspicious element in her already tense life. She hears mysterious voices in her head, and her magic power begins to appear in frightening ways, alienating her from her family and her best friend Rishi. When the family is attacked, Alex has to take things into her own hands to stop the malevolent presence that seems to stock her. On her Death Day, Alex performs a spell to rid herself of her power, but the spell backfires, and her family disappears. It is up to Alex to travel, with Nova, through a portal to Los Lagos, a magical in-between realm, to fight the malevolent being that has haunted her even before her birth and save her family.
Alex's voice is the perfect blend of sincere emotion and sarcastic humor that embodies her teenage frustration at feeling apart from her family's traditions:
I wonder what it's like in other households during breakfast. Do their condiment shelves share space with consecrated cemetery dirt and blue chicken feet? Do their mothers pray to ancient gods before their leave for work every morning? Do they keep the index finger bones of their ancestors in red pouches to ward off thieves? I already know the answer is no. This is my world. Sometimes I wish it weren't.
Like Alice travelling through Wonderland, Alex travels through Los Lagos, a place full of dangers, traps and ancient secrets, and realizes the extent of her own power, as friend, daughter, sister, and bruja. The present tense brings an immediacy to the storytelling that builds on the excitement of the quest and will keep readers turning to the next page.
The word "bruja" has a negative connotation in Latin American culture, largely due to the colonial conflict between Catholicism and the religious practices of indigenous and West African cultures. As Córdova states in her afterword, brujas and brujeria have largely been something to be feared. In recent years, Latinx writers, artists, and activists have actively worked to reclaim the word and celebrate their freedom of cultural expression and self-empowerment. Traditional brujeria denotes communal power over the malevolent forces. Unlike the covens of witches seen in movies and shows with young white women who wreak havoc on the people who have wronged them, Labyrinth Lost is an imaginative homage to traditional cultural practices and archetypal struggles between past and present, power and fear.
While the archetypal quest and struggle between good and evil are familiar, Alex's journey feels especially necessary right now. Latinx readers, old and young, need a protagonist that is flawed, unique, powerful, but vulnerable, representing our multidimensional selves. Alex is often passive and unsure of herself. She lets her friends take the fall and get hurt for her. This allows the other characters shine and illustrates Alex's journey as she begins to understand her role as bruja, friend, sister, and daughter. It is in this way that Alex comes to terms with her identity as a queer woman who loves deeply and fiercely; a potent part of reading this novel. In a social environment where Latinx people are being actively demonized, it is fitting to have a heroine and a cast of characters that shun stereotypes in a world set in, both, the real and the unreal.
Each chapter begins with a quote from the Book of Cantos, a book that holds all spells of the brujas, including their history and stories. Each one invokes the stories that form Alex's past and prophesy her future. Each ancestor that visits Alex on her quest plays an integral part in shaping who she is. The mixture of the ancient, of things foretold and destinies altered, lends a sense that we are made up of our pasts, but, also, our futures, and that these futures depend on our actions, not upon who we believe we are. In this way, the story ends with a necessary feeling of hope.
Córdova also leaves us with a cliffhanger, providing ample room to spend more time in the wonderful world she has created in the next two novels in the trilogy. I look forward to seeing where Alex's story goes.
---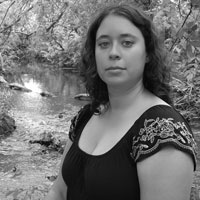 Leticia Urieta is a Tejana writer from Austin, TX. She is a graduate of Agnes Scott College and is a fiction candidate in the MFA program at Texas State University. She won Agnes Scott's Academy of American Poet's prize in 2009 and her work has appeared in Cleaver, the 2016 Texas Poetry Calendar, and Blackheart. Leticia lives in Austin, Texas with her husband and two dogs. She is using her love of Texas history and passion for research to write a historical novel about the role of Mexican soldaderas in Texas' war with Mexico.