GROWING UP by Devin Kelly

Devin Kelly


GROWING UP



She is naked save for pink socks, and her pale young behind squeaks as she slides, or inches, down the balustrade. The sound echoes off the wooden floorboards and she imagines a tiny creature screaming in short bursts. She cannot determine if the screams are pained or joyful. All things contain a little of both, she thinks. Twirling, orbiting around the living room, she laughs as only a child can laugh at the midnight hour when her parents are asleep and the dark, turning world seems to house a different sort of life. Pale moonlight filtered in slatted lines across the floor. A painting on the wall of a high-heeled woman in a red dress with legs splayed in mid-dance. She recalls something her dance teacher said just a week ago: "All life is a delicate balance between love and hurt." She did not know what that meant. Hurt for her was the lingered ache of her red behind after sliding naked down the railing. The crater slowly caving into her chest as the outline of her breasts began to introduce itself. She dances. Music rises from the wood below. She does not know who is playing the instruments. There is the whining yawn of a discordant fiddle. She does not know that someone, or some things, are watching her through the windows, shrouded in the cool polar-patched blanket of the still night. She does not know that the world itself has yawed on its axis, and what strange creatures have formulated around her house to peer and listen and watch a young girl age. They touch her with their eyes. Her skin prickles. She closes her eyes and spins on five pink-clothed toes. A man with a face six inches thin and three feet long scribbles on a pad, using a rubric to grade her twirl. He gives her a passing grade but still shakes his head. The creatures outside whisper amongst themselves.
"With what grace she ages," one says.
"I want to hold her in my fourth arm," one says.
"I want to clothe her in my dusted brow."
Who knows how the demons gaze at youth. Who knows how they creep their thin spindled hands into the fissures between skin and lodge slow and silent into the space between a child's ribs. But outside they are looking in at this naked child dancing, moving in unfettered whispers in and out of the shadows cast by starlight. Outside they are crying. The tears, hot, damp, big, burn their craggy faces. They say we will spare her. They ask could life be only love without hurt? They say it is our job to make love beautiful. They say we must not spare her. They cry more. They are scared. One reaches his long-fingered hand through the window the way an eel slides through water. Then another. Then all of them. And they reach through the night until they touch her bare skin, then they slip inside and make her older.
---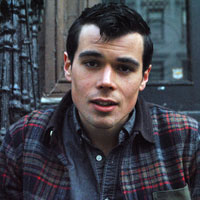 Devin Kelly is an MFA student at Sarah Lawrence College, by way of Fordham University. He has read as part of Lamprophonic's Emerging New York City Writers Series, as well as at the Sarah Lawrence Poetry Festival. His poetry and fiction have been featured in Catch & Release, Dunes Review, and Steel Toe Review. He was a member of the 2014 Sirenland Writers Conference, hosted by One Story. Devin Kelly teaches Creative Writing and English to 7th graders and high schoolers in Queens, and currently lives in Harlem.
Image Credit: Lauren Hammond on Flickr