FIVE STRETCHED SAPPHICS by Weijia Pan

First Prize, Form & Form-Breaking Poetry Competition
I love Weijia Pan's contemporary approach to the Sapphic stanza—a lyric poetic form created by the Greek poet Sappho, from her home on the island of Lesbos. Here, each five-line fragment represents the lethal fracturing of the details that compose the present tense: "a 6-inch brush," "a spectacled granny," an "unleashed spatula," and on TV, "a war in Kharkiv / Kharkov or Odessa?" There's a hint of "ear-hot" love in a collision with loneliness, and of the cold alienation of the "Whatever Terminal in No Matter Airport" where "the war rages on and on it makes no sense / because his hometown is already devastated," ending with a tied and untied shoe. Weijia Pan has selected the ideal form for this approach to language and the dismantling of meaning. They have both adhered to and stretched Sappho's ancient form to contain and enact our 21st-century shatter.
—Diane Seuss, Judge
Weijia Pan


FIVE STRETCHED SAPPHICS
1. Unpacking, she saw
a 6'' brush, a Best Usage note, a handful of
corn. As she called the seller, the corn plunged into the
gaps between her panels. Last time they met, they studied
indie films, and read over the night. Ear-hot, their hair
snuggled the moon's overspill.
2. 相亲: matchmaking

is when they leave the library, each hugging a book.
An afternoon: a spectacled granny dozes off,
wrinkling the newspaper on her knees. He reaches through
silence for the beg button. The stoplight turns yellow.
Cars gnashing behind the lines.
3. Time is a weapon

with gravitational pull. A hook fell off the tile,
unleashing a spatula. He picks it up. A town
besieged on his bedroom TV: a war in Kharkiv
Kharkov or Odessa? He puts down the spatula
which drops again to the ground.
4. Writing a story
today, I can't imagine how else to end: Sorry
I can't help you. Sorry you must remain. Sorry we
can't find his information. Sorry, Dad's dead. As if
to create, you'd have to learn to kill. So here's the deal:
I am coming to kill you.
5. Last night, he's nothing
but a cargo at the International Counter
of Whatever Terminal in No Matter Airport
and as the war rages on and on it makes no sense
because his hometown is already devastated,
he ties and unties his shoes.
---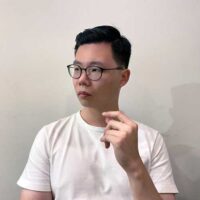 Weijia Pan is a poet and translator from Shanghai, China. His poems have appeared or are forthcoming in AGNI, Boulevard, Copper Nickel, Georgia Review, Palette, Shenandoah, and elsewhere. A winner of the 2023 Max Ritvo Poetry Prize, his first poetry collection will be published by Milkweed Editions in 2024.
Cover Design by Karen Rile