EXCERPT FROM 'THE FLAT WOMAN' by Vanessa Saunders

EXCERPT FROM 'THE FLAT WOMAN'
by Vanessa Saunders
AT NIGHT THE WOMAN'S DOORBELL RINGS. IN HER DOORWAY, THE MAN HOLDS HIS DOG IN HIS ARMS.  
Is that a dead dog, she says, moving so the man can puncture her otherwise quiet house.  
In her living room, the man lowers his dog towards her couch cushion.  
Squinting at his whimpering dog, he says, Sartre might die. 
The man tucks a nylon blanket under Sartre's chin. Sartre pants. Sartre ate too much chocolate cake, he says, shifting towards the woman, Thank you for being here. She says, I'm glad you came over. Sorry he got poisoned. His steps pace oddly around her living room. Are you alright, she says. Hugging her bathrobe to her waist, she wanders to the window, where her reflection is foliage, gargled vines.   
Pacing in her hallway, he says, It makes me fucking sick, how we all eat, eat until we burst, and I can't do anything to change it… 
◊
THE WOMAN AND THE MAN LIE ON THE MAN'S BED, WATCHING TELEVISION, WHEN SUDDENLY THE MAN LEAPS OFF. 
As he begins to kneel on the carpet, the woman says, What are you doing.  
The man says, kneeling, I have a question to ask you. She stands, and he stays on his knee.  
The man says, Will you move with me to High Plains, Nevada.  
A hot pause.     
The man says, I've been offered a position at the world famous All-Elvis enclave.   
The woman says, Elvis.  
The man says, It's been a life dream to mimic the king. I'm moving to High Plains, where my face will be plastered on television sets across the nation. I want you to come with me.  
The woman says, Let me google it.  
◊
THE NEXT DAY THE WOMAN MEETS HER AUNT IN A COFFEE SHOP WITH OCHRE STAINS ON THE CEILING. MAKING A FACE AS SHE SIPS HER WATERY COFFEE, HER AUNT ASKS:  
So you're dating that guy who writes perverted love songs about birds. The woman says, I guess you could say that. The TV attached to the wall displays an image of a female's headless body, oiled, positioned on a dinner plate. An advertisement jingle plays. Her aunt says, Don't you think it's a little funny you're dating an activist. The woman says, I guess so.  
The waitress approaches them to ask if they would like anything else; her aunt looks at the woman and says no.  
I'm sure you know what you're doing, her aunt continues, By the way, it looks like I'm about to go through another divorce. Do you have any money I could borrow. A man in a suit enters the coffee shop with blood on his shoes, tracking it as he bumbles over to the register. The woman says, I don't have access to my university stipend anymore. Plus, I'm moving to High Plains. He got a job at one of those Elvis enclaves. 
Her aunt's face goes slack and she hesitates, You should probably follow him there. She sniffs. Well anyways I've got to get going. These lawyer checks won't write themselves, and unlike you I don't have an Elvis Impersonator for a boyfriend. She tosses a crumpled five-dollar bill on the table, adjusting her faux-fur vest and prancing around the blood tracks in her soiled-cream stilettos.  
◊
BEFORE BOARDING THE TRAIN TO HIGH PLAINS, NEVADA, THE WOMAN AND HER PURSE ARE SEARCHED. HANDS GROPE BENEATH HER BREASTS. AN EXTRA SECOND.  
She sleeps during the ride and wakes to the slur of wheels slowing.  
From the window her eyes stare at High Plains, Nevada. Black tall buildings, a sky tinged with smoke.  
At the arrivals platform, the man waits behind a barrier. His shoulders clumped. Moving towards him. A haze of stubble over his forehead, chin. She's clutching her potted plant from Pinecoast against her hip. 
At the edge of the throng, their bodies sizzle. As she collapses into him, she says, Home at last.  
Careening through the emptied station, he offers her a white handkerchief. To protect your lips from the ash, he says, forehead glossed with sweat.  
Luggage in tow, they sprint towards the yellow cab gunning in the shade. Heat throttles in her lungs.  
Yellow cab smashing through strange cool streets. A graffiti-phrase on the side of a concrete building reads, HIGH PLAINS, CITY OF HOMELESS COWS. She says aloud, Homeless cows. Cab driver says, In High Plains, cows run free in the city. There is nowhere for them to graze. All the nearby pastures have caught fire.  
He says, Look.  
In the street, a herd of cows exposing their slack pink tongues. Ribs poke out from their skin. The woman licks her lips.  This is us here, the man says, dispensing a wad of cash into the cab driver's palm. In front of their new apartment complex, the woman widens her step to evade a cow snacking on the innards of a vulture.  

---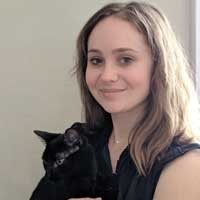 Vanessa Saunders is a writer living in New Orleans, Louisiana. She teaches writing at Loyola University, New Orleans. Her cross-genre manuscript, The Flat Woman, was a finalist for the Seneca Review's 2019 Deborah Tall Lyric Essay Book Contest. That manuscript was also longlisted for the 2018 Tarpaulin Sky Press Book Award. Her poems and cross-genre work have been published in PANK, Entropy, Nat. Brut, Stockholm Literary Review, Poor Claudia, Passages North, Heavy Feather Review, and other journals; her nonfiction has been published in Redivider. She studied at the University of East Anglia and San Francisco State University for her BA in creative writing and received her MFA from LSU. She is presently at work on a novel of eco-fiction.
Image credit: emrecan arık on Unsplash