BEING WHOLE AFTER A DIAGNOSIS by Anthony Aguero
Anthony Aguero
BEING WHOLE AFTER A DIAGNOSIS
I. Diagnosis
Someone likens your body to soured-meat,
Flies swarming the thighs, a hint of cinnamon
Brushes just underneath your nose.
ELISA, has confirmed the inevitable.
O you enzyme-linked immunosorbent assay.
II. Treatment Plan
Someone says take this ad infinitum. One by one,
Opal, green pills sitting at the bottom of a valley.
Nothing violet or green ever growing.
Stribild was approved by the US FDA in August 2012
For human bodies.
A cocktail of Vitekta, Tybost, Viread, and Emtriva.
III. Non-Adherence
Someone mentioned they smelled a thing dying
In the apartment you lived in. You checked each
And every corner – he put a flashlight
in your throat. Says It's you. You prepare
an ofrenda with only cinnamon sticks.
Immunocompromised. Death in the white-
Blood of my body.
IV. Reminder
Death likes to tap at the sole of your foot.
It smells of cinnamon just to confuse you.
You smell meat running its course.
V. Adherence
One by one, opal, green pills sprawling at the
Bottom of a translucent lake. Little by little,
The color rushing back into your body.
Antiretroviral treatment –
The ceasefire of replication.
VI. Being Whole After a Diagnosis
You drowned so many times just to get here.
A hint of cinnamon brushes just under your nose.
O the scent of living too.
---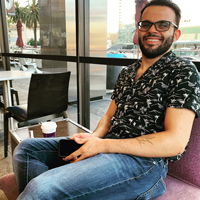 Anthony Aguero is a queer writer in Los Angeles, CA. His work has appeared, or will appear, in The Bangalore Review, 2River View, The Acentos Review, The Temz Review, Rhino Poetry, Cathexis Northwest Press, 14 Poems, Redivider Journal, Maudlin House, and others.
Cover Photo by Sharon Co Images on Unsplash