PICASSO IN 10 LINES and SNOW by Jerrold Yam
TWO POEMS
by Jerrold Yam
Picasso in 10 Lines
Tell them the orange ocean. Make fear
a nude woman. Two characters are more
likely competitors than companions. Or
the cautionary tale with shadows?
Nothing is uglier than an angle struggling
under the weight of mismatched colours.
Lanterns are exaggerated faces. Be quick
to judge but slow in remonstrance. See
the fruit bowl stepping into a trompe l'oeil?
Follow its lead. Stub your pencil out.
Snow
Leave us. There is no generosity
in unwelcome surprise. Already
the neighbour's yard clenches its
earthen jaw in anticipation; kids
sprint to windows upon waking.
If you have to cheat in the middle
of the night, vanish by morning.
Tell me how kindness works in
taming an undependable being.
---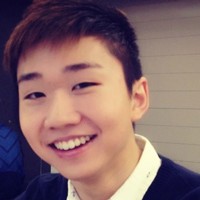 Born in 1991, Jerrold Yam is a law undergraduate at University College London and the author of two poetry collections, Scattered Vertebrae (Math Papre Press, 2013) and Chasing Curtained Suns (Math Paper Press, 2012). His poems have been published in more than fifty literary journals worldwide, includingAntiphon, Counterexample Poetics, Mascara Literary Review, Prick of the Spindle, The New Poet, Third Coast, and Washington Square Review. He is the winner of the National University of Singapore's Creative Writing Competition 2011, and the youngest Singaporean to be nominated for the Pushcart Prize. More information at his website.
Image credit: "Still Life With Compote and Glass", 1914-15, Pablo Picasso, from Wikipedia