AND WIND WILL WASH AWAY, a novel by Jordan A. Rothacker, reviewed by William Morris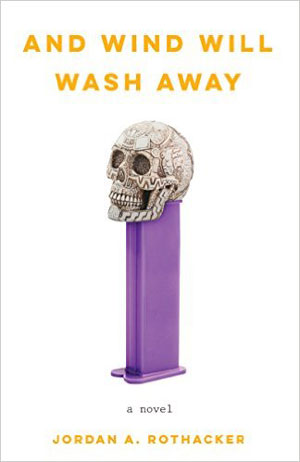 AND WIND WILL WASH AWAY
by Jordan A. Rothacker
Deeds Publishing, 376 Pages
reviewed by William Morris
Detective Jonathan Wind is not a wisecracking, hardboiled investigator in the tradition of Philip Marlowe, or a hyper-observant sleuth like Sherlock Holmes. Rather, Wind uses his almost encyclopedic knowledge to investigate crimes for the Atlanta Police Department. When he's not on a case, the protagonist of Jordan A. Rothacker's And Wind Will Wash Away splits his time between Monica, his devout Catholic girlfriend, and his secret mistress, Flora, a goddess-worshipping sex worker.
All of this changes when, one early morning, Detective Wind gets a call from his partner, notifying him of a new case. The victim turns out to be his lover, Flora Ross, and her body has been burned to ash in an otherwise undamaged apartment. The police are satisfied to call the woman's death accidental, the result of some electrical mishap, but Jonathan Wind isn't so sure. He takes it upon himself to investigate the case in secret, going against department policy, and withholding the fact of his relationship to the victim all the while.
In his quest for truth, Detective Wind encounters "an albino midget dressed in all white […] and quoting Goethe," various members of Atlanta's religious underworld, and an awkwardly attractive woman named Iliya Chernovsky, among others. In the fashion of any great detective novel, each new revelation seems to create more questions than answers. To cope with this uncertainty, Wind turns to books. He believes meaning can be made out of even the most apparently random of situations. As he drifts through the library, pondering the case, Wind thinks:
All of the logic and analytic philosophy he had ever studied from Plato to Wittgenstein broke down quite simply, especially in regard to divinity. Situations present themselves and the outcome for man is how man reacts to what is presented. One thing grows out of another. In this godless world, nature works on systems and structures and with enough facts, and a great enough view of each situation and all the connecting parts, an understanding can be reached.
Wind regularly makes reference to canonical thinkers and writers. The novel's chapters open with epigraphs from Job, Joseph Conrad, and Toni Morrison, to name just a few. In Flora Ross's apartment, the reader gets a glimpse of the books lining her shelves. These include texts on spiritualism and sexuality, of course, but also several writers one might find on an English major's nightstand: Ovid, Nabokov, Atwood, Salinger, Tolstoy, and Vollmann.
Like William T. Vollmann writing about San Francisco's prostitutes and skinheads in The Rainbow Stories, Rothacker has rendered an empathetic portrait of Atlanta and its forgotten—or never truly known—subcultures. In his investigations, Wind neither glamorizes nor vilifies the cult members, sex workers, immigrants, and various groups of others he encounters. This is the novel's true accomplishment: it gives voice and humanity to those we so easily forget and ignore.
Jordan A. Rothacker's debut novel, And Wind Will Wash Away, is both ambitious and important. It shows the workings of a mind deeply concerned with the exploration of literature, religion, philosophy, and the human intellect. It wears the cloaking of a detective novel, but the real focus of this book is not on finding out who or what killed Flora Ross. The true investigations here are of the ways women try to regain agency in a patriarchal society, the violent and forgotten origins of our modern cities, and the various, sometimes conflicting meanings of love.
---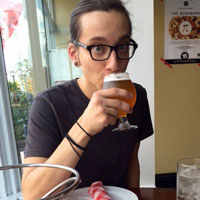 William Morris is pursuing an MFA in fiction at the University of Missouri-St. Louis. His work has appeared in print and online, most recently at Sediments Literary Arts Journal, Fiction Southeast, and Red Earth Review. He divides his time between St. Louis and Salt Lake City, and is always reading. He also works as an editor at Natural Bridge. His other areas of interest include cats, coffee, and cryptozoology.