WELCOME TO MY GALLERY OF GENUINE LOOK-ALIKES by Anne McGouran

Anne McGouran
WELCOME TO MY GALLERY OF GENUINE LOOK-ALIKES
1
That grating drone is the wind off Nottawasaga Bay whipping along Main Street. The Freshii outlet just duct-taped their front window and Happy Hooka Bait & Tackle closed one hour early. As I struggle to stay vertical, a Gandalf lookalike falls into step beside me. We walk abreast for several blocks and I stare at his perfectly shaped cigarette ash. He turns into the Molly Bloom Pub where he'll trot out his magic-cigarette-ash bar trick for all the old vets and rooming house drifters.
In the Arboretum, a man who sleeps rough near the meditative labyrinth is examining the Trembling Aspen's memorial plaque. Arms around its pale white trunk, he's a dead ringer for the epic-bearded cigarette ash guy. Homeless people make me nervous, sad and guilty but I try to make conversation. "Hey man, did you know that the aspen has hands down the most restless foliage of any tree? My tree atlas says its leaves pivot in the slightest breeze. No kidding."
2
Easter egg hunts on the windy Plains of Abraham, sugar shack excursions for boiled maple sap rolled in fresh snow… I always pictured my mother's Quebec City childhood as a kind of lost paradise. The year after she died, I retraced my mother's childhood haunts. Still standing were J. A. Moisan General Store (now an ultra-hip foodie haunt) and Le Capitole recital hall (now a Beaux-Arts theatre with a "Who has not looked for calm in a song?" frieze above the loge seating). I lingered in front of her old house on Saint-Gabriel: a three-story Georgian, the green shutters gone, half-moon fanlight miraculously intact.
Eighty-three-year-old cousin Annette was my mother's last surviving relative. During our brief visit, I was struck by her resemblance to Madame Hermine, the flirtatious landlady in Children of Paradise… the same tight curls and chain of office necklace. Annette's idea of haute cuisine was a 7-Up and a "Super-Club" sandwich at Snack Bar St-Jean. After dinner, she executed a soft-shoe on the rain-slicked cobblestones while warbling "Je cherche un homme bon caractère. S'il est galant et beau, envoyez le moi. Expérience, pas nécessaire." (I'm looking for a man of good character. If he's gallant and handsome send me to me. No experience necessary.) Annette stopped hiccuping after fennel tea and a shot of Harvey's Bristol Cream then stared off into the distance. "After Sunday Mass we'd walk down to Basse-Ville for tartelettes à la crème de citron and boules au rhum. The baker's twine cut into my fingers when I carried that big cake box up the hill… a white box with blue letters that said 'Patisserie Kerhulu. '"
3
Quebec's Charlevoix region is notorious for its hilly terrain. While we were admiring the north shore's panoramic views, our Dodge Caravan's back axle began braking and revving as if possessed. "Cripes!" my husband said. "I know you had your heart set on whale watching but we'd better head back… stick to the concession roads."
We made a last-ditch stop in the village of Les Éboulements overlooking the St Lawrence River. Inside a dove grey, shotgun-style barn, an elaborate diorama overflowed its papier-mâché backdrop. Hand-painted terracotta figurines, tiny country chapels and cedar-roofed shacks arranged in tiers. A replica 19th century village of millers, bakers, lamplighters, town criers, knife sharpeners, aioli makers—all daydreaming, pontificating and haggling.
A pale, freckled girl named Adélonie wrapped our purchases in butcher paper and twine and affixed a label: "Les Santons de Charlevoix." When I asked if the santonnier modeled his figurines after real people she half-shrugged, half-winked. Later that afternoon in Quebec City, a mechanic replaced our car's universal joint and threw in complimentary maple sugar candies.
Twenty-eight santons populate our front room bookcase: a bearded peddler with a samples case; a midwife balancing swaddling clothes in an olivewood cradle; a village fool in a rucked-up nightshirt. The baker woman carrying a pannier full of bread and cakes bears an uncanny resemblance to cousin Annette who died twenty years ago. The same sultry-avaricious vibe.
---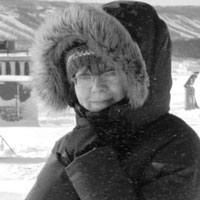 Anne McGouran's stories and essays appear or are forthcoming in The Account, CutBank, The Smart Set, Mslexia, Switchgrass Review, Gargoyle, Queen's Quarterly (cited in Best Canadian Essays 2019). Anne McGouran lives in Collingwood, Ontario where she has developed a fascination with ice huts and orchard ladders.
Image credit: Scott Webb on Unsplash