IN WARD G by Kharys Ateh Laue

Kharys Ateh Laue
IN WARD G
A man died in Ward G two nights before my father. The man's name was Trevor. I know because on my first morning at the hospital a doctor wearing purple Nike running shoes squatted by his bed and asked, Do you remember your name? He did. Trevor, he said. Trevor and my father did not know each other, yet their lives converged at the end. Their last days were spent in the same atmosphere of sound and light and air. Now, when I think back to those last days with my father, I think of Trevor too.
Trevor was alone when he died. I keep going back to that, how he died without anyone being there to touch him or speak to him. I could have gone to him and I did not. At the time, my father took up all my inside space.
Afterwards I could not get my head around what Trevor had done. The doctors behaved as if he had performed a simple and explicable trick, as if he had turned off the lights, for instance, or walked out the door. They acted as if his disappearance were temporary and he would reappear whenever he chose. But I could not get my head around it. I wanted to know how it was done. I wanted to say, He was here a moment ago. Where is he now?
◊
Earlier that night, a woman had tried to feed him Sprite through a straw. She arrived late, after Trevor's usual visitors, and stood looking at him with the can in her hand. He lay on his back with his eyes open. The sheet hung from his puffed belly and his arms lay stiff as branches at his sides. He was breathing badly. The woman put one hand flat on the bed and bent over him, coaxing him to have a sip of Sprite. He would not look at her. When she pressed the straw to his lips he turned his head away and said, Not thirsty. He spoke in a clear small voice, like a child. The woman straightened, setting the soft-drink on the bedside table. She left the room and returned a few minutes later with a nurse.
What's wrong with him? she said. He wasn't like this yesterday.
The nurse gazed down at him.
Please do something, said the woman. Why is he breathing like this? I tried giving him a drink and he wouldn't have any.
The nurse picked up Trevor's wrist. She pressed two fingers to his pulse and watched his face. After a time she laid his arm on the sheet as she had found it.
I don't know, she said. I'm not sure what's wrong.
But he shouldn't be breathing like this, the woman insisted. It's not normal. Please do something.
I'll call the doctor, said the nurse. The doctor will look at him now-now.
I'm telling you, said the woman, this is not normal. He should not be breathing like this.
The nurse nodded.
I'll call the doctor, she said, and left the ward.
The woman leaned and held her hand flat against Trevor's forehead. She watched him closely. He panted.
This is not normal, she said to herself. No, this is not normal.
The woman left at seven thirty. Before leaving she kissed him on the cheek.
The doctor's coming soon, she said. You keep very well. I'm going to leave this in case you get thirsty in the night, okay? She raised the Sprite can for him to see and then replaced it on the bedside table. I'll be here first thing in the morning, she said.
I never saw her again. Sometimes I wonder about her. I wonder who she was to Trevor and how she took his death and whether, when she thinks of him now, she remembers us four, me and my three siblings, crowded around my father's bed on the other side of the room. As for me, I remember her. I can't forget how she spent her last half hour with Trevor trying to feed him Sprite through a straw.
◊
Trevor became restless after she left. Something in the arrangement of his body bothered him. He rolled his head from side to side on the pillow. He fiddled the hemline of the sheet with his thumbs, holding it tight against his chest, and pressed his shoulder blades into the mattress. He parted his legs under the sheet as if he were preparing for a birth. Then he stopped shaking his head and began looking around. His eyes were dark and unusually large, and he looked at things with the keen regard of a man taking a final reckoning of his world. He looked at the ceiling and IV stand and the nurses passing along the corridor. He looked at the can of Sprite on his bedside table. He looked at me.
The last thing he did was push off his sheet. It must have depleted the last of his energy but he did it. But for his nappy, he was naked. His belly, lumpy with deposits of fat, bulged out of him as though stuffed with rags, and his limbs were thin and brittle-looking. He was by this time very still. He seemed an ugly and misshapen doll tossed aside by some long-ago child, who had become bored of him or found some newer plaything, and now lay waiting to be retrieved. Minutes before his death he became fretful again and began feeling his bare skin with his fingertips. He felt his throat and collarbones and chest, as if he knew there was something unusual inside him and wanted to identify it, or as if he were craving the sensation of touch. When I looked up again the nurses had drawn his curtains.
If I had spoken to him just beforehand, perhaps he would have told me what it was like. Perhaps he would have said what he was waiting for or what he was thinking about. But I did not go and speak to him. Now I can only imagine what he would have said, but even that is useless. In my visions of myself speaking to him he only ever looks at me and smiles, his fingers working here and there over the surface of his skin.
◊
There was a small commotion at Trevor's bedside after his death. The doctor in Nikes had been standing at the foot of my father's bed, looking through his file and answering our questions, when one of the nurses touched her forearm. She glanced up at him and the nurse gestured come. The doctor looked at us and said, Excuse me a moment, and followed the nurse to Trevor's bed. They disappeared behind the turquoise curtains. There was a brief silence and then the doctor said, How long has he been like this? I did not hear the reply. The doctor emerged from behind the curtains and went into a storage room that opened off the corridor. She pulled out a machine on wheels, reversing from the narrow room, and turned it about and parked it on the far side of Trevor's bed.
I was in a camping chair facing the corridor. My brother sat opposite me. My sisters stood at the foot of the bed massaging Nivea cream into my father's legs. His skin was dry and papery, discoloured by fretworks of shattered veins below the surface. When the doctor brought in the machine, my sister glanced up and made a sound with her tongue.
A resuscitator, she said. The last thing we need.
What? I said.
I too had seen it, but I had thought it was an X-ray machine.
A resuscitator, she said again.
She took hold of my father's hand and put her head down against his thigh.
I could hear them working on Trevor behind the curtains. There came a low murmur of voices and the indistinct sounds of objects bumped against one another and then the steady pneumatic hiss of the resuscitator. When the doctor spoke again, her voice was clear and calm.
Yes, ward G, I need your help now.
The sound of the resuscitator continued, puffing on and on in the silence of the ward. At last a male doctor came in at a jog and stopped at the foot of Trevor's bed. The doctor in Nikes came out from behind the curtains shaking her head. He stood looking at her with his hands on his hips, breathing heavily. It was a good healthy sound. Not like Trevor's gasps or my father's laboured breaths, rattled with phlegm.
No, she said.
Too late, he said.
She laughed.
Ja, too late. There was a pause and then she said, I told you I wouldn't need the resuscitator. She laughed again. She was exhilarated, full of adrenaline.
My brother glanced over his shoulder and then looked at us.
That man just died, he said.
My sister nodded and looked at my dad. She held his hand and squeezed it.
What? I asked. What did you say?
Later that night, I said to my sister, Did you see how that doctor laughed? She actually laughed.
It's a defence mechanism, she said. Sometimes people do that.
◊
It was after midnight when they removed Trevor's body. By then, everyone was asleep except me and my brother. We were taking it in shifts and my sisters had gone home to get some sleep.
Two nurses came in with a morgue cart and bodybag. They wore white latex gloves. I watched them disappear behind the curtains and listened to the sounds they made. I heard the shiver of wheels and takkies scuffing the vinyl floors and whispering and the rustling of the plastic bodybag. I gathered these sounds, examining them. I seemed to see the nurses moving around the bed murmuring directions to one another as they transferred the body to the bag on the steel cart. Then there came the low resonant whine of a zipper pulled home and I knew they were done. The nurses came out. They opened the curtains and stripped the bed and emptied the dustbin. One of the nurses noticed the Sprite. He took the can to the sink and poured out the contents and threw it away. Then they left with the cart. On it lay Trevor, unborn in his plastic womb.
◊
After Trevor's death, I felt spared. I felt relieved that it was he who had died and not my father. It was not a noble emotion but it is what I felt. Rising, I lay my forehead on my father's chest where his breath was. For the first time I understood that he was gathering himself to go and I wanted to feel his breath. I wanted to feel the texture of its movement inside him. Dear father, I wanted to say, we are here. Soon you will be elsewhere and then you can do as you please, but for now let us be here.
My father lived another day and a night. He died on the morning of the 25th of March 2019 while the sun was coming up. My sister was with him. She said he looked at her and his eyes were very blue and clear. He knew what he was doing and was calm about it. My two other siblings and I arrived a few minutes after he died. New sunlight was quickening and shimmering on the white wall behind him. He glowed.
My dear father. We are here.
---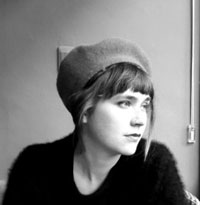 Kharys Ateh Laue is a South African writer whose short fiction has appeared in Brittle Paper, New Contrast, Itch, and Pif Magazine. In 2017, her short story 'Plums' was longlisted for the Short Story Day Africa Prize. Her academic work, which focuses on the depiction of race, gender, and animals in South African fiction, has been published in Scrutiny2 and the Journal of Literary Studies. She currently lives in Port Elizabeth, South Africa.
Image credit: Raphaela Linders