THE HOUSEKEEPER by Sydney Smith
Sydney Smith
THE HOUSEKEEPER
You can live with something right under your nose, say a dot of mustard, without ever seeing it. Well, at least for a day.
It's like when you forget what shirt you're wearing or if you're even wearing one, terror absorbing you until you look down to find, just the same as this morning, you're dressed in that blue half-sleeved puffy thing you never wear, and that's why you felt an eerily unfamiliar cotton-graze on your elbow right before that moment of clarity.
But the oblivion grows thicker, insidious even, when perpetrated. Who can remember what one has decided to forget? We all do it, sweeping under the rug of our subconscious the dust from every time our clay hearts have groaned and cracked. And then we tread on the rugs to prove that it's really gone. For a while it works.
Until the housekeeper comes.
I am the housekeeper.
My clients tend to watch me as I pick up their rugs and flap them out. Dust flies, and I catch it and jar it up like wild fireflies soon to run out of air. They watch me as I get down onto my knees to scrub the piss stains out from the underbelly of their toilet seats—why aren't toilet bowls made butt-ready anyway?
Some clients are lonely and welcome my visit. With most, though, I can tell my presence makes them uncomfortable. They don't scowl, but I can see their teeth clench when I approach tender spots.
There's the man, father, and within the past few years, mountain biker, gardener, whittler, ex-music teacher, and frantic busy bee whose deceased wife's belongings still rest on his layers upon layers of grief. I must thoroughly dust atop and around them, but, oh! Please don't reach between. He's glad to reach toward me, though, seeking—and receiving—shared joy in a gift of homegrown cherry tomatoes.
The delicate retired lady has the disturbingly nice—lead singer of the Bee Gees level—teeth and an elegantly decorated home, where the only junk is hidden on her desktop computer. The computer is the place where she goes by another name and another life; I know because of her PayPal pseudonym. Despite a recent mysterious hip break which officially ended her lifelong career in politics, she still hastily hobbles around me when I dust her keyboard to ensure my fingers don't graze their way up to the power button.
The supposedly-treacherous husband instructs me to please do treat the fifth guest room like a bona fide bedroom from now on. It should be deep-cleaned just the same as the lavish master suite with its walk-in closets and office, now to be used solely by the Mrs. because, hey, she's not the one with the snoring issues. And though his baggage is apparently heavy, she's sent it through the trash compactor so it can fit in his new tiny closet, on the other side of the house from her and from what the guests see: the chandeliered entryway leading into either the parlor with the antiques and the crystal sherry glasses or the hall covered in family photos of wife and husband, daughter and son, cat and dog, all smiling perfectly.
Just as I smile while I'm there.
But see the thing about such hard candy shells is that they're external, exposed to the elements of experience, so they tend to crack. Now, if you're hired to shine this cover until it sparkles, you better as hell pick at those little crevices—scrub them with a toothbrush if you must—and pry out the smashed-in gunk because, if you don't, enough waltzing around it will push that crack down and open, and you know dust-swept-under always finds its way back out.
That's the catch with being a housekeeper, though. No one likes you digging through their clay heart's dust, even if they hired you to, because there's a reason they shove that stuff into the cracks. It hurts to look at, as do I.
The reason they clench their teeth when I'm around is that it isn't me they're seeing. It's a mirror.
---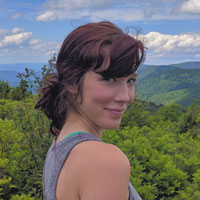 Sydney Smith is a newbie writer from the South. She took a roundabout path to writing—by sharing science through short stories. Growing up with the woods in her backyard, she developed a deep love for nature. The beauty in nature is what drew her to science and informs her creativity. She's published poetry in Collage, the creative arts journal at Middle Tennessee State University, where she recently graduated with a dual B.S. in Physics and Philosophy. Sydney Smith is also soon to have a biophysics paper published in Cellulose.