NINETY-NINE STORIES OF GOD by Joy Williams reviewed by Kathryn Kulpa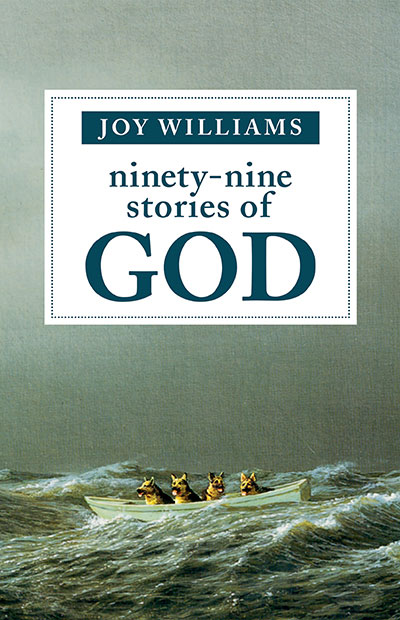 NINETY-NINE STORIES OF GOD
by Joy Williams
Tin House Books, 151 pages
reviewed by Kathryn Kulpa
Joy Williams is an author whose work I sought out because once, in a review, someone compared me to her, and since I hadn't heard of her before, it seemed like a good idea to read her. It was a happy discovery. Still, she was not an author I associated with flash fiction. Her dense, full short stories seemed more like novels writ small.
Things change. In Ninety-Nine Stories of God, Williams has pared away all but the essentials. These very short prose pieces are novels written in miniature, pocket epics and cryptic parables etched on the head of a pin. Most are not more than two pages, some are a single paragraph, and a few are just one or two sentences: simple, even stark, yet weighted. The sixty-first story, "Museum," for example, is one rueful sentence: "We were not interested the way we thought we would be interested."
Williams's small stories, like the best flash, keep most of the iceberg under the water, leaving us with as many questions as answers. Each story ends, rather than begins, with a title, which often serves as an ironic commentary or summary of the story. For example, in one story, the narrator tells of dogs that are continually losing their ID tags. The tags are often mailed back by good samaritans—all but one of whom are realtors or insurance agents who include their business cards with the dog tags. The story's title? "Opportunity."
The title of the collection, Ninety-Nine Stories of God, might lead readers to expect overt religious references in every story, but Williams is more subtle than that. Some, for example "Opportunity," have no direct reference to a deity, others pose ethical or philosophical questions, and others feature God as a character. Writers and other introverted types may find themselves identifying with Williams's omniscient being, who generally comes across as self-conscious, socially awkward, and a bit befuddled by his two-legged creations, a God who struggles with self-definition and prefers to "hang with the animals," feeling less lonely among bats and wolves than in the more complicated human world.
This terse, tart collection may remind readers of the flash fiction works of Lydia Davis, both in brevity of style and choice of subject. Some stories seem more "truth" than fiction, taking off from newspaper headlines, odd facts, or historical anecdotes. Writers and philosophers—Kafka, Jung, William James, Simone Weil—make frequent appearances. Other stories feature ordinary protagonists making their way as best they can through the absurdities and coincidences of everyday life.
A flash fiction collection often invites a browsing approach to reading, and it's possible to open this book to any page and enjoy the story that follows, but despite a desire to sip and savor, I found myself devouring Ninety-Nine Stories of God in one gulp. The writing is that good; the stories are that funny and wise and unexpectedly true. I suspect that Williams's God, when not off canoodling with capybaras or prowling with porpoises, would keep a copy on His bedside table.
---

Kathryn Kulpa is flash fiction editor at Cleaver. She is the author of Girls on Film, a a flash fiction chapbook published recently by Paper Nautilus, and Pleasant Drugs, a short story collection. She has work featured in the anthology Up, Do: Flash Fiction by Women Writers and in Monkeybicycle, Smokelong Quarterly, and Saranac Review.