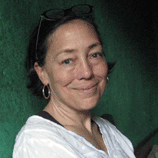 Lise Funderburg's latest book, Pig Candy: Taking My Father South, Taking My Father Home, is a contemplation of life, death, and barbecue. Her work has been published in the New York Times, TIME, the Philadelphia Inquirer, The Nation, MORE, Chattahoochee Review, Oprah Magazine, and Prevention. She teaches creative nonfiction at the University of Pennsylvania, Rutgers, and the Paris American Academy.
---
EXIT STRATEGIES by Lise Funderburg's Id as told to Lise Funderburg
Holiday party season is once again upon us—a time of dough-forward cookie trays and ornamental cabbages, of feigned interest and conversational quicksand. This year, why not ride the crest of incivility that has taken our nation by storm? Say what you mean. Say whatever you feel like, then get the hell out of Dodge. Examples follow:
"I thought you were more attractive from across the room." "It sure is noisy in here. I think it's the sound of other people having fun." "Fish sauce is the ultimate umami, you say? Bye, I say." "I can't hear you, and I don't want to." "How do you know LA is 'where it's at for young artists' when you are neither?" "That person knows people, so I'm heading there. You stay here." "Was there a point to that?" "What I'm getting from your airless and yet flatulent rant of the last eight minutes is that you, more than anyone, saw the current political situation coming. Now see me going." "When I said, 'I don't follow sports,' I thought it implied baseball. My bad." "That woman blocking the food table is showing people ...
Read the full text
THE DILETTANTE'S DEVOTIONAL
by Lise Funderburg
I stayed up 'til 1:00 AM a few weeks ago, and where was the party? At my desk, with everything but the keyboard covered in postage stamps. Polish stamps, Poczta Polska, all issued between 1928 and 1969. Musty old stamps honoring tanks and trade union congresses, marking six-year plans and newspaper tricentennials and the 1000-year anniversary of the country itself. Clumps of stamps memorializing uprisings in Silesia, the recovery of territories, and planes, lots of planes, carrying mail or flying over cities. New steelworks, new electric plants, well-muscled and barefoot coal miners, studious children, Curie and Kopernik and korfball, Chopin and Paderewski, Stalin and Hitler, zoo animals and butterflies. Not one stamp memorialized or honored or even acknowledged Catholicism. I found them all in the basement of a house my stepson bought in a short sale. The stamps had moldered away for 30 unweatherproofed years, and in carting them home before the junk haulers came, my plan was to stumble upon a rarity, sell it on eBay, and become rich. Or at least get the driveway resurfaced. A toe—no, a toenail—dipped into the world of Philately indicated that my mound of Perf Lt Cancel ...
Read the full text