Jon Riccio


INSULAR



Unknown to the stewardess,
the stroke victim imagining
his fingers in 12-F. Knuckles
corralling a pencil, legs to
annotate a lap. Nerve endings
like eraser strands stowed
under a magazine's staple.
If a celebrity crossword passes
the International Dateline, does
its star power last a day less?
Unknown to the mortician,
the hearse's serpentine belt
tended by the mechanic, his
aorta like so many lug nuts
chiseling the antifreeze after
it hardens into waves coating
a postcard above the hinterland
of a hubcap. Some businesses
frame their first dollar, others
revel in their grease.
Unknown to the acrobat,
the tent sweeper's ratio of bristles
to debris. Crescents the way
a unicyclist pendulums
across spilled popcorn,
flattens it into a calling card
of buttered while the chainsaw
juggler syncopates his wrist.
The kernel on which a stopgap sweats,
dexterity simmered with each hum.
Unknown to the street vendor,
the puppeteer's storefront of felt
trickling onto a figure tagged
Bootlegger – speakeasy ankles,
vagabond abdomen –
box edges mildewed by
a pipe that joins his neighbor,
the Chamber of Commerce,
to marionettes mid-physique.
The jester's dimples laden with mold.
Knowledge, no clarity of ion or oat,
no cursive to fray the turbulence,
least of all a steering column
opposite the mechanic's vena cava
while a carnival fetters its detritus
because every performance –
wire, placemat or otherwise –
is how we settle the salvo.
Insular the avenue where
I'm comfortable most unknown.
---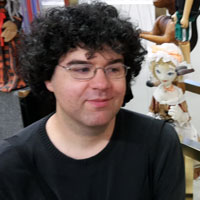 Jon Riccio studied viola performance at Oberlin College and the Cleveland Institute of Music. His poems have appeared in Bird's Thumb, Hawai'i Review, Redivider, Blast Furnace, The Writing Disorder, and Stone Highway Review, among others. Originally from the Midwest, he makes his home in Tucson, where he received his MFA from the University of Arizona.
Image credit: Billie Grace Ward on Flickr
Read more from Cleaver Magazine's Issue #14.