EVEN THE DOGS by Ronda Broatch

EVEN THE DOGS
by Ronda Broatch
The horses hid the day I walked out to pasture
to catch my appaloosa. Ferro, eluding the drape
of lead rope over his withers. I found him deep
in woods I'd never entered, and slipped the halter
over his dappled head. Time and distance enough
to mute the shot it took to fell the bull
back at the barn, meat truck parked, everyone
gathered around, beers in hand, to watch. I tied Ferro
to the post, curried and saddled him for our ride
along the slough, past winery and autumn fields, years
before the bike path, down the stretch of dirt we raced
until my eyes ran, Ferro's body sinking
closer to ground as he flew, as was his birth right.
Sweating, we returned, the bull's headless torso dismantled,
chatter of onlookers bartering who got what.
I opened the gate, led Ferro back to pasture, watched him
roll in dust. Blood on the wind that day, the dogs hanging
close by, keen, squirrelly. A wild ride
while muzzle nuzzled temple, a galaxy opening inside
the bull's brain. To be touched by God might be so brutal,
so beautiful. The day I wandered the pasture,
found my horse, slipped the rope around his quivering neck,
haltered his roan dappled head, wondering,
what is this God, anyway?
---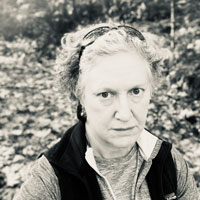 Ronda Piszk Broatch is the author of Lake of Fallen Constellations (MoonPath Press). Ronda's current manuscript was a finalist for the Charles B. Wheeler Prize and Four Way Books Levis Prize, and she is the recipient of an Artist Trust GAP Grant. Ronda's journal publications include Fugue, Blackbird, 2River, Sycamore Review, Missouri Review, Palette Poetry, and Public Radio KUOW's All Things Considered.