EARLY GIRL and QUEEN ANNE'S LACE by Megan Denton
TWO POEMS
by Megan Denton
Early Girl
for Allie
If they ask you how it felt, say it was like rolling barrels
of yourself to the brim, poised on the edge of Spring—
a delicately fizzy drink. If they ask you how it felt,
tell them it's the rusty spigot you pass on the way home,
the loose valve in your mother's heart—flittering about
instead of doing its business. Even in the side yard
that no one mows, tell them that you could sit quietly
for hours with a story you'd never heard. You'd imagine
bombs falling on the house, ones the color of the geraniums
by the front door that's already gone up into flames.
You painted them hundreds of times, red birds laughing
with their big, old chains messy and burning on the lily cross.
And looking up at them with unpainted eyes, remember
the squealing, bloody Jesus throwing dirt on your father's floor.
Remember you buried what you could not carry, under boots
and tufts of hair? There now, a tower like grace appears—
this statue of a young girl, where whistling swans have perched
and waited. And you stepping through it almost, almost.
And Jesus, look at you singing to the feathers, all bloodstained
and crippled on the lawn. When they ask you how it felt, say
it was like the gutsy red tomatoes held out to you nine at a time,
everywhere the stillness, the totem, the language of knives.
◊
Queen Anne's Lace
Love-cars, and lights turned down, gasping
in the August-hot, hungrily, all light—all dazzle,
cat-like, I yearned down from other dust, licked
the plate, the fork, how bright, you might say
on a Sunday, the stove was and the last good kiss,
accelerating. But I remember the rue, the annual
rings, the heartwood, a universe through
patchwork piles, jiggling the doorknob, for a wreath
of wheat and greasy jeans. Queen Anne's lace was
closed, stopped, chatting. Say you carried it
up a hill, picked through the barrel of sunflower seeds,
the deep green of the smallest flower, a chimney
climbing out of a cottage. Thread, pennies, breath,
a thousand stalks swelling by the roadside,
this pleated baby turns, this smooth-backed knee
bruises, afraid that the petals are falling, soon.
---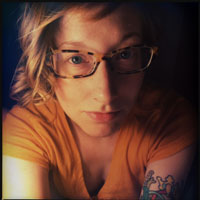 Megan Denton currently lives in Chattanooga, Tennessee with her cat, Mona, who has no teeth. She recently graduated from The University of Tennessee at Chattanooga with a BA in English: Creative Writing. Though she has not yet applied for MFA programs, she hopes to do so soon. Her poetry has also appeared in Rock & Sling, Ruminate, and The Sequoya Review. She is an old-soul, grandmotherly-type young person trying to figure out how to be a real adult without losing her sense of childlike jubilation. She has an identical twin sister, a tiny birthmark that looks like a clover, and lots of Earl Grey tea.
Image credit: Peter Dutton on Flickr