TIPS TO UNSTUCK YOUR WRITING, Part 1 by Tricia Park
Tricia Park
TIPS TO UNSTUCK YOUR WRITING
First in a 5-part series
Estimated reading time: 3 minutes
Sometimes, the hardest part is getting started. We get overwhelmed by self-doubt and too many (or too few) ideas as we sit, staring at the blank page.
What if I told you that you could write more quickly, with more fun and ease?
Writing is hard because we have a lofty idea of what writing is. We imagine people–fancy people–with degrees and credentials and quills and thick notebooks into which they spill their flawless thoughts from their flawless brains, sitting in flawless libraries filled top to bottom with other flawless books by other flawless authors.
Yeah, no. That's not how it works.
The best writing begins with mess.
The messier and wilder you are, the better. The best thing we can do is throw ourselves in, as quickly possible, and write a lot of mess, as fast as we can.
Okay, yeah, but how?
If you're ready to make the leap, here's one way to get started:
Drop the needle, aka Your Bookshelf is Your Friend.
When I was a violin student at Juilliard, we took listening exams where the professor would drop the needle on a random record and we'd have to guess what the piece was and who composed it. A nerve-wracking exercise, but I've transformed it here, into a fun writing exercise for you.
● Go to your bookshelf and pick a book you love.
● Open to a random page, close your eyes, and drop your finger (the needle) onto the page.
● Open your eyes and wherever it lands, that's the prompt. Example (if you don't like yours, you can use mine): In Durga Chew-Bose's TOO MUCH AND NOT THE MOOD, I dropped the needle on this phrase: "Funny thing about adulthood,…"
● Set a timer for 10 minutes and write.
● When the timer rings, shampoo, rinse, and repeat this exercise. (My next one is: "a top hat and monocle." You can steal this one, too.
This exercise works because of two things: urgency and ordinariness.
Our (relentless) ten-minute timer creates urgency to focus our attention, giving us a finite amount of time to complete the exercise. The tension of not-quite-enough time puts a fire under our butts to write with intention while also giving us an out…since we only have to write for ten minutes.
And by drawing inspiration from ordinary things–using our senses, our favorite books, eavesdropping on conversation (or radio), everyday objects and phrases–we relieve ourselves of the burden of starting. We don't have to make things up if we just follow the things we find around us.
---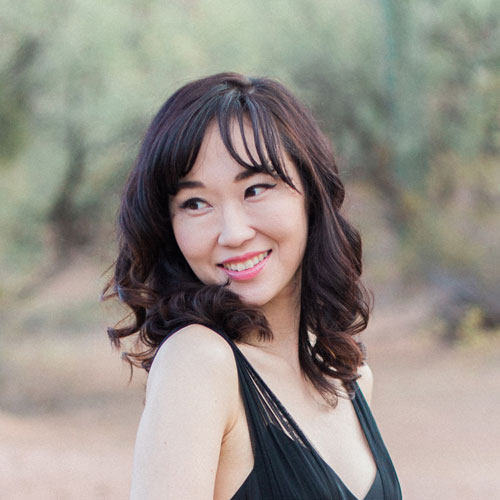 Tricia Park is a concert violinist, writer, and educator. Since making her concert debut at age thirteen, Tricia has performed on five continents and received the prestigious Avery Fisher Career Grant. She is the host and producer of an original podcast called, "Is it Recess Yet? Confessions of a Former Child Prodigy." Tricia has served on faculty at the University of Chicago, the University of Iowa, and has worked for Graywolf Press. She is the co-lead of the Chicago chapter of Women Who Submit, an organization that seeks to empower women and non-binary writers. She is a Juilliard graduate and received her MFA at the School of the Art Institute of Chicago. In 2021, Tricia was awarded a Fulbright Grant to Seoul, Korea, where she worked on a literary and musical project. Her writing has appeared in Cleaver Magazine and F Newsmagazine. She was also a finalist for contests in C&R Press and The Rumpus. Currently, Tricia is Associate Director of Cleaver Magazine Workshops where she is also a Creative Nonfiction editor and faculty instructor, teaches for the Iowa Summer Writing Festival, and maintains a private studio of violin students and writing clients.  Learn more about Tricia Park at: www.isitrecessyet.com. Listen to Tricia play violin at: https://www.youtube.com/c/triciapark