THE RELIC ROOM by William Wells
THE RELIC ROOM
by William Wells
A Civil War cannonball dug from a field
near Petersburg now props open the door.
He shows me in. The room was purpose-built
to house his large collection. In matched pairs,
bullets are bedded like lovers and displayed
by battle, Antietam through Yellow Tavern.
After closing the door, he cradles the ball
on his lap and strokes it like a hefty kitten.
No explanation why it didn't explode,
or won't someday. Should ammunition purr?
Arrayed on felt in a jeweler's cabinet,
tribes of hand-axes and arrowheads pitch camp
in labeled drawers. Photos document
each find in situ. No talk of lives cut short
or burials disturbed, just specimens
we handle with white gloves, butlers to a past
that still commands our hushed obedience.
The vein in his temple bulges with pulsing code
of sudden death. Just ask these artifacts.
---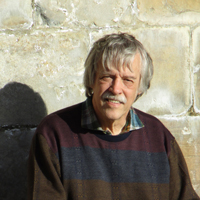 William Wells, a college professor in Ohio, has published four full-length volumes of poetry, most recently Odd Lots, Scraps & Second-hand, Like New, which won the 2016 Grayson Poetry Prize and was published by Grayson Books. His previous collection, Unsettled Accounts won the Hollis Summers Poetry Prize and was published by Ohio Univ./Swallow Press.
Image credit: Wikipedia