THE ANGELS OF PONT-SAINT-ESPRIT
by Patricia Flaherty Pagan
In her mercy, mother ties me to a chair in the attic with rough, wheat-colored rope. Fishermen tell mother that Monsieur Armunier writhes in his straightjacket yelling about serpents upon him. Nurses and nuns rush to his aid. But mother does not trust me, "ma belle jeune fille," to the doctors at the asylum, so we guard my secret at home.
The attic roof leaks. Raindrops kiss my cheeks.
Silvery lights flash and my stomach convulses. Delicate bells of lily of the valley wrap me in their sweet aroma. I am grateful. As flames crackle in the river, seraphim rise on blue-tipped wings. Their celestial voices join in a libretto of glory. I also sing. Then I ride the crescendo of sound to them. They enfold me in their wings of sky and we soar and dip above the spreading fire.
Quiet, child, my mother says.
No, I cannot have the bread, because it is cursed. No, I cannot have the water, because it is poisoned.
But I would eat any blight and drink any venom to dance with my angels again. I guard my vision as the poison retreats. Awaking from sleep, I feel the message of archangels beat in my chest. What can I achieve to be worthy of this gift? How will I share the triumph that my soul knows?
One day, I will burn past the Saturday market and across the twenty arches of the bridge. I will become my own miracle.
◊
Historical Note: This piece was inspired by the 1951 mass-poisoning incident in the small French village of Pont-Saint-Esprit. Many local residents fell gravely ill and experienced hallucinations. More than forty people were interned at the local asylum where they were restrained in straightjackets or chained to beds, and seven people died. Historians have proposed various theories about the mysterious incident, including ergot poisoning caused by the rye bread at the local bakery, mercury poisoning, mycotoxins, or a possible CIA experiment with weaponizing LSD.
---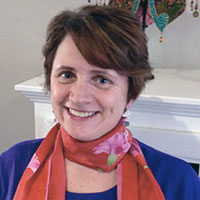 Patricia Flaherty Pagan grew up near Boston and has lived in four countries. She writes flash fiction, award-winning literary and mystery short stories, and novellas. Her collection, Trail Ways Pilgrims: Stories, was published in 2015. Her short fiction has recently appeared in Tides of Impossibility, Our Space, and Eve's Requiem: Tales of Women, Mystery and Horror. Find her at www.patriciaflahertypagan.com.