Here is your opportunity for one-on-one editorial feedback on a work-in-progress.
Writer Dinty W. Moore says that creative nonfiction equals curiosity plus truth. CNF comes in a variety of forms: from expansive memoir to intimate personal essay to the lightbulb "eureka!" of flash. But in any form, nonfiction seeks a deeper understanding of ourselves and our world. It requires a well-told narrative, conflict, careful pacing, and a dynamic mind thinking on the page. Whether you have an essay near completion to submit to journals or programs, or have written a draft and don't know what to do next, an experienced editor will offer the guidance and encouragement necessary to realize your best work.
Creative nonfiction writer and editor Sydney Tammarine will read your essay (up to 4000 words) and offer constructive written feedback regarding what's working, what needs attention, and how to improve in key craft areas. Feedback will be returned within 21 days; expedited turnaround is also available. You may add an optional video conference with Sydney to discuss your work further and ask questions about next steps for revision.
Submission Guidelines
– Creative Nonfiction Clinic is open to all nonfiction writers
– 5500 words maximum
– Please double-space your manuscript and use Times New Roman or a similar font
– You may include specific questions for feedback in the cover letter section when you submit
– Category may close if editors' capacity is reached; it will reopen the following month
Cost

$100 for up to 2500 words
$150 for up to 4000 words
$200 for up to 5500 words
$50 add-on for a 30-minute Zoom consultation
$50 add-on for an expedited 2-week turnaround

---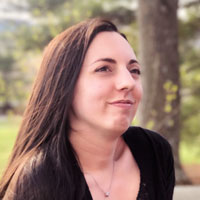 Sydney Tammarine's work has appeared in Ploughshares, B O D Y, Pithead Chapel, The New School's LIT, and other journals. She is the co-translator of a book of poems, The Most Beautiful Cemetery in Chile. She holds an MFA in Creative Writing from Hollins University and teaches writing at Virginia Military Institute. She has led writing workshops at The Ohio State University, Hollins University, Otterbein University, and at high schools, including as Writer-in-Residence at Appomattox Regional Governor's School. She serves as creative nonfiction and flash editor for Cleaver.