DABBLE IN EKPHRASIS: A Writing Tip from Mark Danowsky
A Writing Tip from Mark Danowsky

DABBLE IN EKPHRASIS
Estimated reading time: 3 minutes
Ekphrasis provides an opportunity for artforms to engage with each other. As a poet, this often means engaging with visual art. 
Ekphrastic writing is an excuse to look at other artforms as an outsider. You don't need to feel competitive. After all, you're a poet and they are a visual artist. They are experts in their field just as you are in yours. 
Keep in mind, you have no requirement to like/appreciate a famous artwork simply because it is said to be "genius" or created by a "master". The artwork has already been created. It's a finished product. You're the one creating something new. You're in charge here. 
When viewing a piece of artwork, react as you wish. There are no stakes at this stage. See what you see. Feel what you feel. Consider taking notes.  
Your personal taste is what you bring to the table. Like what you like, dislike what you dislike. Avoid the temptation to go wholeheartedly negative. That is, writing a poem about all the ways you dislike a piece of art is a little like writing a bad review. If you hated the work, then why are we even having a conversation? There are, of course, always exceptions that prove the rule. 
While experiencing, engaging with the artwork you are writing about in real time, enjoy the interplay. What is the work making you feel? What emotions arise as you gaze at the work? What associative thoughts and memories come to mind? Does the work make you feel positive or uplifted? Are there certain aspects of the work that are a turn off? What draws you in? What pushes you away? 
As you continue to reflect on the artwork, start to consider readership. What can you share that illuminates something that will be a meaningful takeaway for readers? What insight or epiphany has dawned on you as you engage with the artwork?  
A tricky aspect of ekphrastic writing is discovering what can be shared with readers that provides them with value. Otherwise, the writing becomes too personal and navel-gazey. You want to make the personal universal. 
A goal, too, is to make the poem valuable without the reader being required to view the artwork alongside your poem. Ideally, your poem should stand alone. 
At the end of the day, ekphrastic writing is wonderful practice even if what you come up with is later determined not to be something for public consumption. Not everything we write as poets is going to be for an audience. It's good to remember that practice, putting hours into work that will never be shared publicly, is something we should feel good about. Practice is an accomplishment.
***
Examples of good ekphrastic poetry:
Kip Knott – Distress Signals
Kip Knott – Surrounded by the Sea
Kip Knott – Every Portrait Is a Self-Portrait
Sally Nacker – David's Garden
Sally Nacker – Waking to Winter
Bracha K. Sharp – Tapestry
Peter E. Murphy – On it may stay his eye
---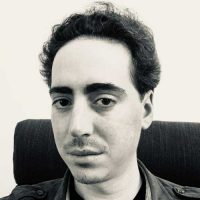 Mark Danowsky is Poetry Craft Essays Editor for Cleaver Magazine and Editor-in-Chief of ONE ART: a journal of poetry. He is the author of Meatless (Plan B Press), Violet Flame (tiny wren lit), JAWN (Moonstone Press), and As Falls Trees (NightBallet Press). His poetry collection Take Care is forthcoming from Moon Tide Press in 2025. Visit Mark Danowsky's website here.
Read more from Cleaver Magazine's Writing Tips.