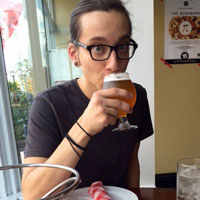 William Morris is pursuing an MFA in fiction at the University of Missouri-St. Louis. His work has appeared in print and online, most recently at Sediments Literary Arts Journal, Fiction Southeast, and Red Earth Review. He divides his time between St. Louis and Salt Lake City, and is always reading. He also works as an editor at Natural Bridge. His other areas of interest include cats, coffee, and cryptozoology.
---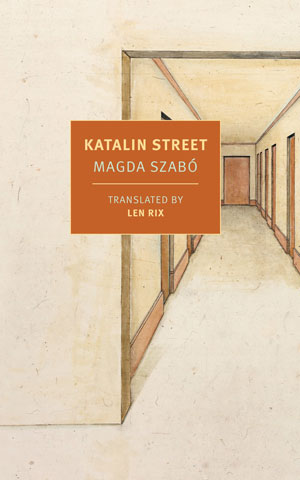 KATALIN STREET
by Magda Szabó
translated by Len Rix
New York Review Books Classics, 248 Pages
reviewed by William Morris
Purchase this book to benefit Cleaver
Four children play together in a quiet neighborhood. The children are Henriette Held, the young daughter of a Jewish dentist; the Elekes sisters, Irén and Blanka; and Bálint Temes, the handsome son of the Major. Their game is Cherry Tree, in which they all sing and spin in circles, and one of the children "chooses" another, the one they love. In this innocent game, the girls invariably choose Bálint, and each girl develops her own particular feelings for the boy; when it is his turn to choose, though, Bálint always prefers Irén, the oldest and most serious of the three. This is one of the earliest memories shared by the Elekes, Temes, and Held families, who form a lifelong, tragic bond in Magda Szabó's
Katalin Street
. The bond between these families is cemented when, later in life, Bálint and Irén are married. Their eventual marriage seems a given from childhood, but is stalled by other relationships, the tumult of life in postwar Hungary, and the death of their friend Henriette. During the German occupation, ...
Read the full text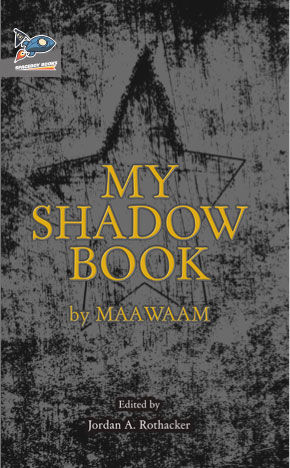 MY SHADOW BOOK
by MAAWAAM
edited by Jordan A. Rothacker
Spaceboy Books, 227 pages
reviewed by William Morris
In the summer of 2011, novelist and scholar Jordan A. Rothacker discovered a box containing the journals of a being known as Maawaam. Thus begins
My Shadow Book
—part literary manifesto, part metafictional frame narrative. The novel itself is credited to Maawaam, while Rothacker gives himself the title of editor. This framing device, the found manuscript, is used throughout literature as a way of creating verisimilitude in the reading experience. By claiming to have found and compiled Maawaam's papers, Rothacker gives the novel legitimacy as a real, authentic document, while also absolving himself of any blame for the contents: he simply discovered these writings, and so is not responsible for their creation. Despite Rothacker's apparent effort to distance himself from the fiction, in Maawaam we have the character of a struggling writer. He calls himself a Shadow Man, a "double agent" writing in the darkness while presenting himself as a functioning member of society in the light. Is "Shadow Man" another way of saying "artist," or is Maawaam otherworldly? Perhaps both. In his journals, Maawaam quotes William S. Burroughs, Anna Kavan, and Guy ...
Read the full text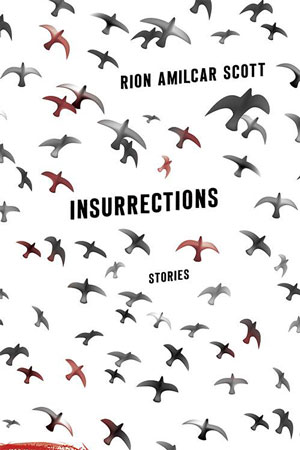 INSURRECTIONS
by Rion Amilcar Scott
University of Kentucky Press, 191 Pages
reviewed by William Morris
Welcome to Cross River! The stories in Rion Amilcar Scott's debut collection,
Insurrections
, are set in Cross River, Maryland, a small East Coast city you won't find on any map. The city itself is a work of fiction, but the lives of its inhabitants feel startlingly real. Among the Cross Riverians—or Riverbabies, depending on who you ask—included in this collection are a suicidal father, an old man known as the slapsmith, and a pair of brothers separated by the constantly flooding Cross River, which gives the city its name and divides it into the affluent Northside and impoverished Southside. North/south, eloquent/colloquial, holy/profane: these dualities are brought to life throughout
Insurrections
, winner of the 2017 PEN/Robert W. Bingham Prize for Debut Fiction. In their citation for awarding the collection, the judges describe Scott's writing as: "hard, humane stories, free of grandstanding yet full of grace, that loom in the mind long after reading." And the judges are correct. These stories are at times hard, filled with moments of violence and helplessness. But they are also humane, alive with innocence and beauty where it's least expected. One ...
Read the full text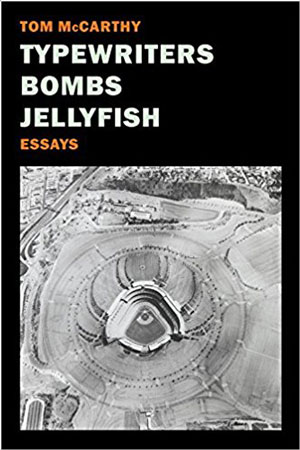 TYPEWRITERS, BOMBS, JELLYFISH: ESSAYS
by Tom McCarthy
New York Review Books, 288 Pages
reviewed by William Morris
I am writing this on Monday May 8, 2017, the night before
Typewriters, Bombs, Jellyfish: Essays
, a collection of the work of British writer Tom McCarthy, will be published. I checked my watch to be sure of the date, and found that it's a day off. It claims today is the 7th. This small discrepancy is hardly worth noting, except as it pertains to McCarthy's obsessive treatment of time in these essays. Time is an illusive business, a difficult thing to pin down, as it's always moving out from under us. For McCarthy, time is a series of refrains and repetitions, arrests and elisions, and he turns to it again and again in this collection. McCarthy originally published or presented these essays as lectures, introductions to books, or accompaniments to art installations during the last decade-and-a-half. Readers may know McCarthy better from his novels (
Satin Island
,
Remainder
,
C
), in which case they won't be surprised by the literary and philosophical topics covered in these essays. In "Get Real, or What Jellyfish Have to Tell Us About Literature," for example, McCarthy writes about ...
Read the full text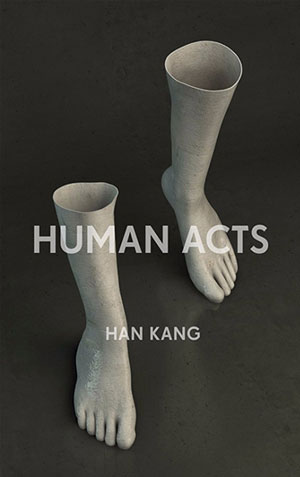 HUMAN ACTS
by Han Kang
translated by Deborah Smith
Hogarth, 224 Pages
reviewed by William Morris
First published in South Korea in 2014, Han Kang's new novel
Human Acts
is now available for the first time in the United States. American readers first encountered Kang in 2016, with the translation of her 2007 novel
The Vegetarian
. This strange, dark, poetic novel, about a woman who decides to stop eating meat after having a horrific nightmare, was met with great acclaim. Translated by Deborah Smith,
The Vegetarian
went on to win the 2016 Man Booker International Prize. While
Human Acts
is a rich, powerful novel in its own right, and should be read independently of
The Vegetarian
, it is often interesting to situate a novel against the writer's other work. As
The Vegetarian
progresses, we learn that the central character, Yeong-hye, is not satisfied with simply avoiding meat. In fact, she's decided she wants to become a plant, shedding her barbaric humanity for the gentler, more beautiful life of a tree. The strangest thing about
The Vegetarian
, however, is that none of the novel is told from Yeong-hye's perspective. Instead, her husband, brother-in-law, and sister narrate the three parts of the ...
Read the full text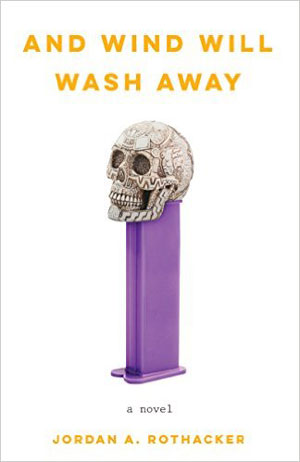 AND WIND WILL WASH AWAY
by Jordan A. Rothacker
Deeds Publishing, 376 Pages
reviewed by William Morris
Detective Jonathan Wind is not a wisecracking, hardboiled investigator in the tradition of Philip Marlowe, or a hyper-observant sleuth like Sherlock Holmes. Rather, Wind uses his almost encyclopedic knowledge to investigate crimes for the Atlanta Police Department. When he's not on a case, the protagonist of Jordan A. Rothacker's
And Wind Will Wash Away
splits his time between Monica, his devout Catholic girlfriend, and his secret mistress, Flora, a goddess-worshipping sex worker. All of this changes when, one early morning, Detective Wind gets a call from his partner, notifying him of a new case. The victim turns out to be his lover, Flora Ross, and her body has been burned to ash in an otherwise undamaged apartment. The police are satisfied to call the woman's death accidental, the result of some electrical mishap, but Jonathan Wind isn't so sure. He takes it upon himself to investigate the case in secret, going against department policy, and withholding the fact of his relationship to the victim all the while. In his quest for truth, Detective Wind encounters "an albino midget dressed in all white […] ...
Read the full text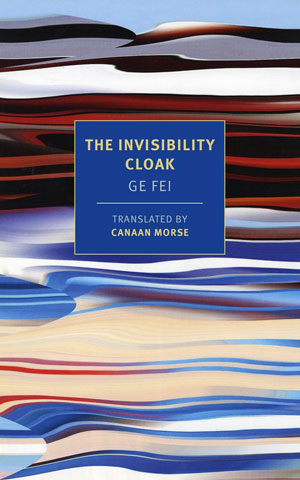 THE INVISIBILITY CLOAK by Ge Fei translated by Canaan Morse NYRB Classics, 127 Pages
reviewed by William Morris
The narrator and protagonist of 
The Invisibility Cloak
—the first English translation of a novel by acclaimed Chinese writer Ge Fei—is not an inherently likable person. Cui sees intellectuals as mainly full of nonsense. He is also quick to play the victim, blaming those around him for his misfortunes. But it would be difficult to read this novel without at times empathizing with the narrator. His wife left him, he's living in his sister's crummy apartment, and the only real solace he finds is in sitting in the dark, listening to Beethoven on CD. In a moment of particular insight and self-awareness, Cui thinks: I'm certainly not a nostalgic man; maybe my heart was heavy because this place used to be called "home." The scraping of tree branches against the roof; the moon in the leaves; the whirr of cicadas and the crash of rain; the smell of coal dust brushed from the furnace on an early morning, all used to accompany me to bed night after night and gently touch my soul in the darkness. But once that unique sort of loneliness settles in your chest, you feel the ...
Read the full text