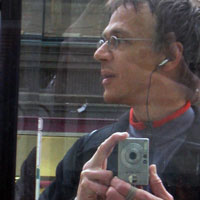 Art Editor Raymond Rorke is an ardent fan of Cleaver Magazine. As a longtime writer and designer who has lived through the evolution of hand-set type into hand-coded webpages, he is fond of tinkering with words—and what goes into making them sing. He's also the in-house graphic designer for The Clay Studio in Philadelphia. Check out his ceramics portfolio here.
---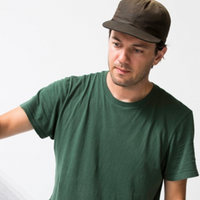 WHAT WE SEE FEELS LIKE THE THING ITSELF
Photographs by Micah Danges
[
click any image to enlarge
] My drive to take photographs is rooted in the unpredictability of such a seemingly predictable process. I use the precision of the camera in conjunction with the limitations of its mechanics to generate a series of inspiring problems that I can solve. I know that the assumptions that I make while shooting the photograph, about how life will translate onto film, will be proven wrong after it is developed and printed. This shift compels me to slow down, study the printed image and isolate key moments of transformation. From there, I consider the surface of the print and build a material relationship with the image that celebrates its singularity. I want to continue to explore the photograph as a flexible medium that has the ability to be both image and object, and to find meaning in that dual understanding. My practice of joining other materials to the surface of photographs comes from an interest in deconstructing photography in a way that viewers can understand. I am not interested in stepping further away from certain elements of traditional photography. I am interested ...
Read the full text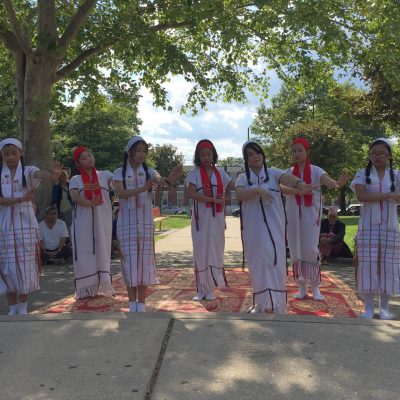 WE ARE ALL MIGRATING TOGETHER
Painted Bus Routes and Immigrant Roots Mural Arts in Philadelphia by Shira Walinsky
Introduction by Raymond Rorke
Philadelphia, the City of Brotherly Love and home of the famous LOVE statue by Robert Indiana, is taking love to new places. If you happen to be in Philly, chances are you'll catch sight of the 47 Bus. You can't miss its bright blocks of color or its bold, emphatic message: WE ARE ALL MIGRATING TOGETHER. This "mural on wheels" is the brainchild of Shira Walinsky, mural artist, and filmmaker Laura Deutch. It runs daily from South Philadelphia's Whitman Plaza, on through Center City, and all the way up to 5th and Godfrey in North Philadelphia, connecting several multilingual, multiethnic neighborhoods and commercial corridors. Riding the bus through this cross-sectional slice of the city you'll inevitably hear a cross-cultural variety of languages spoken, while being wrapped in a welcoming collage that represents the patchwork of diverse people
whose lives intersect every day
. The back of the bus reads "We Are All Migrating Together"—words from the mouth of one of its drivers—and along the way you'll see murals by and about refugee groups who have recently settled in Philadelphia—the Karen ...
Read the full text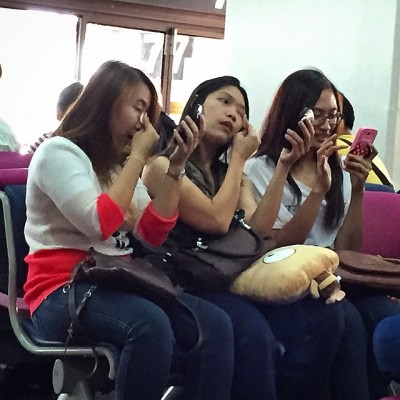 HIDDEN IN PLAIN SIGHT
Instagram Photography
by Tara Stella
Introduction by Raymond Rorke
A century ago, in 1916, American photographer Paul Strand would attach a false lens on the side of his camera so that he could photograph candid portraits of unsuspecting subjects. Later, in the 1930s, French photographer Henri Cartier-Bresson painted his small Leica with dull black paint so that he could unobtrusively capture "the decisive moment." Before the decade was out, Walker Evans was hiding his camera under his coat, the lens peeking through a buttonhole, to photograph riders on the New York City Subway just as they were. Today, in this time-honored tradition of street photography, New York photographer Tara Stella takes Instagrams. Her subjects, too, are candid moments, but her camera is a cellphone, hidden in plain sight. And while Evans didn't publish his collection of subway photos until 1966, Tara's photos are shared instantly online with a worldwide public.
Tara is one of over 300 million active users of Instagram, the popular mobile app that enables cellphone users to grab an image and share it on social media. Since its debut in 2010, over 30 billion photos have been generated by users, ranging from the ...
Read the full text