K.C. Mead-Brewer lives in Ithaca, NY. Her fiction appears in Electric Literature's Recommended Reading, Carve Magazine, Strange Horizons, and elsewhere. She is a graduate of Tin House's 2018 Winter Workshop for Short Fiction and of the 2018 Clarion Science Fiction & Fantasy Writers' Workshop. For more information, visit kcmeadbrewer.com and follow her @meadwriter.
---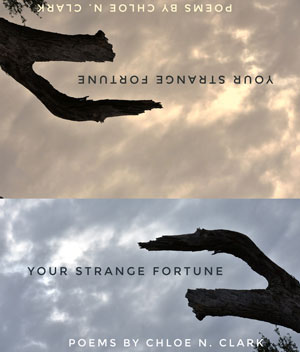 YOUR STRANGE FORTUNE by Chloe N. Clark Vegetarian Alcoholic Press, 56 pages
reviewed by K.C. Mead-Brewer
I first encountered Chloe N. Clark through her prose, but even then, it was clear to me that she was a poet. Her work often feels multimodal in form, something that shines as a written text but that also seems eager to be performed aloud. Her debut collection
Your Strange Fortune
is no different, full of rich and devastating moments, each poem stretching with fresh life on the page or on the air. Some of these poems also function as works of visual art, such as "Flora and Fauna of the Outer Rings," embodying their meaning in shape as well as word. Fans of Clark's work will recognize some of these poems from her chapbook
The Science of Unvanishing Objects
, but not only is there a wealth of new poetry here, the way she's reframed these poems gives each line new energy and weight. The collection is offered, from the title onward, as a fortune-reading for the reader.
Your Strange Fortune
whispers in your hands, and you're struck with the odd feeling that perhaps the book's seeing through touch like an octopus, examining the ...
Read the full text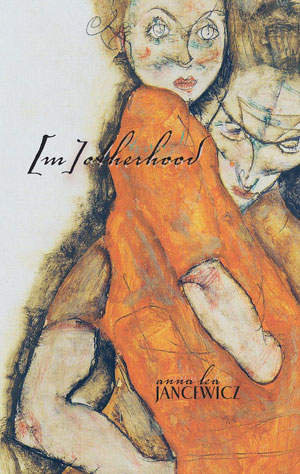 [m]otherhood
by Anna Lea Jancewicz
Widow + Orphan, 170 pages
reviewed by KC Mead-Brewer
Anna Lea Jancewicz built up her editorial chops on magical flash fiction and fairytale non-fiction journals, like
Cease, Cows
and
Tiny Donkey
, before becoming Editor-in-Chief of
Rabble Lit
, a magazine dedicated to working-class literature. Some might consider this a strange artistic road, but it makes sense. Using the magic in the everyday to challenge and undermine the power of oppressors, magical realism emerges from anti-colonialism and protest. Similarly, the classic fairytale often elevates working-class heroines like Cindergirl and Vasilisa. Jancewicz's debut collection builds on these traditions of artistic protest, offering a mix of flash and short stories steeped in both the brutal realities and dreamy magic of women's lives. The combination of flash and short stories creates a heady ebb and flow throughout the collection, almost like a heartbeat
ba-boom, ba-boom
, a place where prayers, stories, and spells live side-by-side. As the title
[m]otherhood
suggests, the book is laced with countless unexpected births and creations, from the endless beastly offspring of "The Female of the Species" to the uncanny rabbit nosing its way up from a garden grave in "Rosemary & Ghostmilk." It's no ...
Read the full text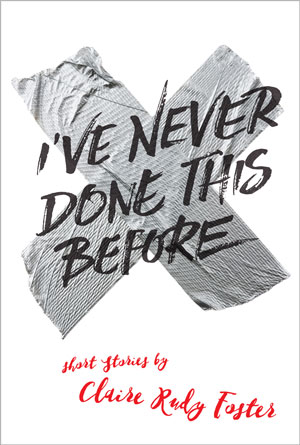 A CONVERSATION WITH CLAIRE RUDY FOSTER 
author of I've Never Done This Before
The KLEN+SOBR Interventions, 78 pages
interviewed by KC Mead-Brewer
Claire Rudy Foster's short story collection I'VE NEVER DONE THIS BEFORE made its official debut just this week from KLĒN+SŌBR Interventions. It's a tight collection with six stories' worth of addiction, struggle, pain, and grit. Foster's critically acclaimed short fiction has been nominated for an AWP award, a Pushcart Prize, and a Best of the Web award. Foster will be giving her first public reading from the collection at The Alano Club of Portland this upcoming October 22nd. —KC M-B
KMB:
I love the title of your collection, all the different ways it applies (and perhaps sometimes doesn't, perhaps only as a lie or a trick or a wish) to your various characters. How did you go about deciding on the "I Never" premise of these stories—was it like playing a much grittier, more intense version of that old childhood game "I Never," or did the connection between these stories arise of its own accord? Something else altogether?
CRF:
The title is a line from [a story in the collection] "Runaway." In many ways, the main character of that ...
Read the full text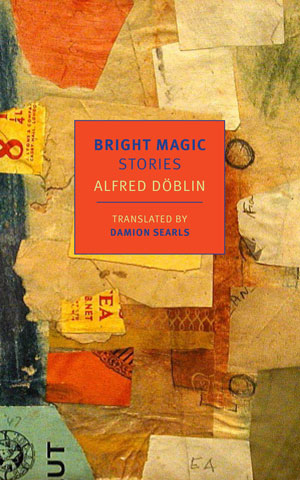 BRIGHT MAGIC: Stories by Alfred Döblin translated by Damion Searls NYRB Classics, 240 pages
reviewed by KC Mead-Brewer
Bright Magic
—a powerful concoction of black humor, harsh beauty, and dark fabulism—marks Alfred Döblin's first collection ever to be translated into English (here by Damion Searls, a master of his craft who's also translated the works of Proust and Rilke). Döblin (1878–1957), now a classic of German literature, was a pioneer of expressionist writing as well as a respected neurologist and army doctor. His short stories show a tremendous bravery of form and a willingness to experiment with things that today would be called flash and micro fiction as early as the 1910s. He also demonstrates a deep desire to mirror the absurdity of all that surrounded him—the horror of world wars, the destructive power of ignorance—by wielding absurdity in his stories like a joke, a sword, a punishing assumption. In this collection, we see Döblin lift up fascinations with memory and things forgotten, with morality and violence, with descents into madness and those dizzying moments of painful, exquisite clarity. In "The Ballerina and the Body," Döblin explores the body's tenuous relationship to the mind. Studying to become a ballerina, the young ...
Read the full text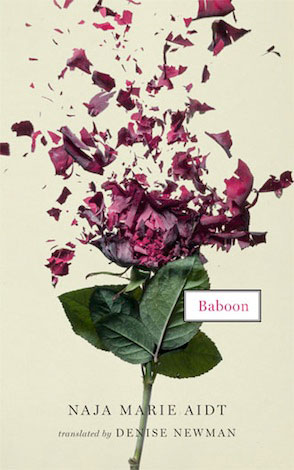 BABOON by Naja Marie Aidt translated by Denise Newman Two Lines Press, 190 pages
reviewed by KC Mead-Brewer
Bestiality, child abuse, love, depression, heartbreak: these are among the many subjects brought to life in Naja Marie Aidt's story collection,
Baboon
. Aidt, born in Greenland, a resident of Brooklyn, writes in the intersection, the most dangerous part of the street. Her stories stand boldly in the overlap of the ordinary and the absurd, between the wondrous and the vile. Brave and masterful, it's no wonder Aidt has won both the Pen Literary Award and the Nordic Council Literature Prize. In the story "Candy," Aidt puts everyday absurdity on fantastic display. A woman accidentally steals a at the supermarket, only to end up stolen herself. Things go from bad to worse when her husband, our narrator, fights to get her back from the store detectives; in the process, he's injured, robbed, belittled, and jeered. Still, he fights for her, knocking over display cans of clam chowder and shouting at the manager, who only belittles him further: "Sir, I'll have to ask you to leave at once. The customers are disturbed. We can't take responsibility for that." "Responsibility!" I shook my head ...
Read the full text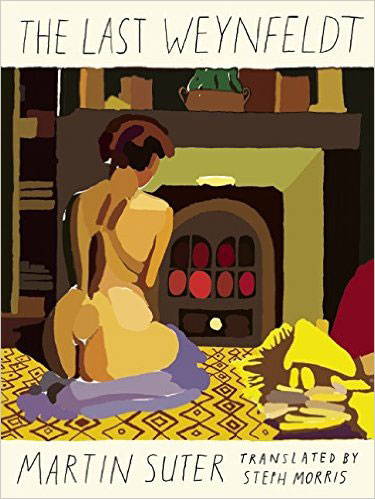 THE LAST WEYNFELDT by Martin Suter translated by Steph Morris New Vessel Press, 302 pages
reviewed by KC Mead-Brewer
Martin Suter's
The Last Weynfeldt
is an impressive work of intrigue and beauty. It sparks at the intersection of two very different people, Adrian Weynfeldt, mid-fifties, internationally renowned art expert, and Lorena, a shoplifting, small-time model who rips Adrian from his carefully crafted still life. Adrian earns his living by putting a "fair" price on beauty, authenticity, and originality. Lorena, often an anonymous commodity as a model, is also a thief, a woman who never pays society's agreed upon price. And it's through these differences—along with a whole host of other artists, liars, grifters, and moochers—that Suter brings out the novel's central conflict between authenticity and forgery, the mass-produced and the one-of-a-kind. Of Lorena, Suter asks what does it do to a person to be dismissed as little more than copy or commodity: In the streetcar to the exhibition center [Lorena] took a free newspaper from the dispenser and sat down cautiously on one of the hard seats. Her picture was on the cover. Wrapped around the Ducelli in a provocative pose, with a seductive look for the camera. The ...
Read the full text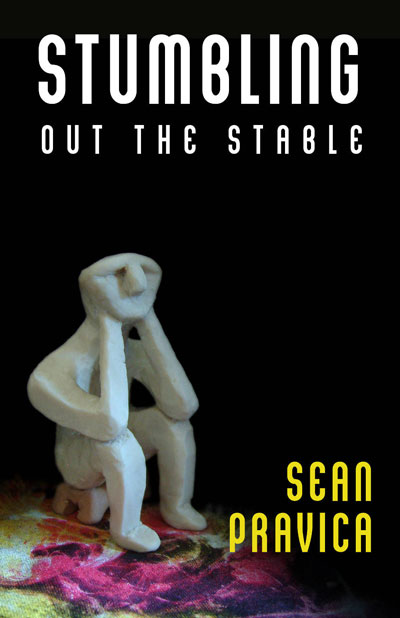 STUMBLING OUT THE STABLE by Sean Pravica Pelekinesis Press, 436 pages
reviewed by KC Mead-Brewer
In his short stories, Sean Pravica often prefers the magical real and the weird over realism. In his debut novel
Stumbling Out the Stable
, however, Pravica steps up to a more classic literary endeavor: to find (and not shy away from) meaning in the everyday. For Pravica's characters in
Stumbling
, this "meaning" is found between the gods of order and chaos—not simply in their conflicts, but in the strange beauty of their creative harmony. The novel crackles with the nervous energy of this crossroads between order and chaos, between the dream of freedom and the fear of aimlessness, between the desire for something new and the temptation to remain safe in practical routine. It is at this crossroads that Pravica introduces us to his leading men, the debt-riddled college student-philosopher-photographer Seamus and Seamus' best friend, Jamie. "What if taking neither path was the best decision?" wonders Seamus, "The more as well as the less traveled were both born from the same split decision. What if movement was nipped in the bud? Was that not It, content already, seams tied shut, wounds healed, stasis realized?" ...
Read the full text